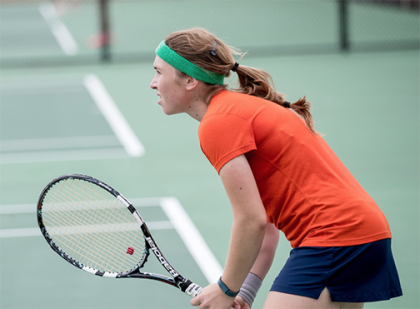 The UTM women's tennis team will look to extend their winning streak this weekend against conference rivals Austin Peay and Murray State.
After a short rough patch at the beginning of the season following losses against Louisville, MTSU and Southern Illinois, the Skyhawk women's tennis team is now on a seven-match winning streak. The streak started in out-of-conference play on March 4 against UAB, when the Lady Skyhawks went 4-0 in their matches against the Blazers. The team also recently defeated Tennessee State on Sunday, March 26, 2017, going 7-0 in their matches against the Tigers.
In out-of-conference play, the tennis team finished 4-3, the three losses being the first three opponents of the season. Those three losses would be their last up to this point in the season, as they currently sit at 3-0 in Ohio Valley Conference play. The team will play Austin Peay on Saturday, April 1 and Murray State on Sunday, April 2.
The tennis team started the Spring season with high hopes following their sixth OVC championship, thanks to an upperclassmen lineup and seven-time OVC Coach of the Year Dennis Taylor. Sarah Candeloro is bringing her experience to the season as a senior and playing at the No. 1 spot on the team. She was named the OVC Female Tennis Athlete of the Week for her 4-0 sweep over her opponents during the March 25-26 weekend. In the fall, Candeloro played at the No. 1 spot in singles and doubles, where she went 14-2 in singles and 8-2 in doubles, earning herself a spot on the All-OVC first team.
Austin Peay, like UTM, currently sits at 3-0 in OVC play, with a 5-5 overall record. Their team includes what some would consider two of the best singles players in the OVC, Lidia Yanes Garcia, who is in the Governors' No. 1 slot at 8-2 on the season, and Claudia Yanes Garcia, who holds the No. 2 slot and is 7-2 on the season.
Murray State enters their matches against UTM on a three-match winning streak, two of which were conference victories. The Racers hold a conference record of 2-1 and an overall record of 5-7.
The Skyhawks will return home for their last three matches of the season starting on Friday, April 7 against Jacksonville State and ending on Saturday, April 15 with Eastern Illinois, before heading to Nashville for the OVC Tournament.
(Photo Credit/Sports Information)