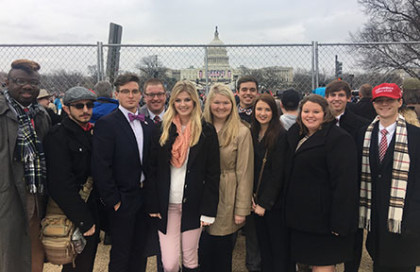 Two days after the election establishing Donald Trump as the 45th President of the United States, a group of 12 UTM students from the College Republicans organization decided that they would attend the inauguration.
Students Coty Vannoy, junior agriculture education major; Shelby Day, junior agriculture business major; Alyssa Kesterson, junior agriculture business major; De'Quad Jimmerson, junior communications major; Ben Walker, senior geoscience major; Greyson Lambert, freshman geoscience major; Lydia Martin, junior history major; Sara Taylor, junior marketing major; Austin Avallone, sophomore business management major; Tristan Cost, freshman business management major; Hunter Johnston, freshman business management major; and College Republicans president and junior political science major, Alex Joyner, started casually discussing the trip and after looking up prices, decided it was feasible.
"Why not?," Jimmerson said. "This is a once in a lifetime opportunity for college students."
The trip was self-funded and cost $259 for hotel and bus fare.
They left Wednesday, Jan. 18 at 5 p.m. to travel to Nashville. Once in Nashville, they boarded a charter bus provided by local John Smith, of John Smith Marketing, to take them and other civilians to the nation's capital. He also coordinated hotel accommodations.
This was Smith's fourth coordinated bus trip for presidential inaugurations. He has transported locals to Washington for the swearing-in of Former President George W. Bush's second term and both ceremonies for Former President Barack Obama. The bus arrived in Washington the next day at 11 a.m.
Three students from Middle Tennessee State University also attended with the UTM travelers. Students Olivia Nodine, April Carroll and Kevin Martin joined the UTM group after being contacted by Joyner, who serves as the state chairman for the Tennessee College of Republicans. There are 18 chapters statewide.
Tickets for the ceremony were provided by 8th Congressional District Congressman, David Kustoff. Legislators are each allotted a certain amount of tickets to be given to constituents. As part of their trip, the students were able to visit Kustoff's office to get their tickets.
On the day of the inauguration, the students were positioned in front of the Capitol building.
"Everybody was there, was bursting with excitement, because we were all there for one common cause. That was really cool to just share that moment with other conservatives," Day said.
While there, they noticed a disabled man in a wheelchair who participated in the instances where the crowd was asked to stand.
"That really got to me," Day said. … "I just thought that it was so cool seeing him willing to stand when he couldn't."
The next day, they toured the capital and witnessed the Women's March take place. Johnston, who was wearing a hat supporting Trump, received many harsh comments and insults from passers by.
"In my head I'm thinking, 'If you're trying to change hearts, if you're trying to convince people that your cause I don't think berating someone of the opposition and verbally assaulting them is the best way to go about it,' " Johnston said. …"If you want to have a conversation, we can have a conversation, but don't verbally attack people."
The group arrived back in Martin on Sunday morning around 1:30 a.m.
"I think it was a really good opportunity because I love to see people that want to get involved in the political process but also you don't have to be a certain gender, race, [or] sex to do that," Joyner said. "I was honored to be able to take them. Overall it was just a really great opportunity; I'd do it again tomorrow."
Pictured from left to right: Students De'Quad Jimmerson, Ben Walker, Greyson Lambert, Coty Vannoy, Lydia Martin, Sara Taylor, Austin Avallone, Alyssa Kesterson, Shelby Day, Tristan Cost and Hunter Johnston stand in the inaugural audience, ready to witness history.  Not pictured is Alex Joyner. (Photo Credit/Shelby Day)