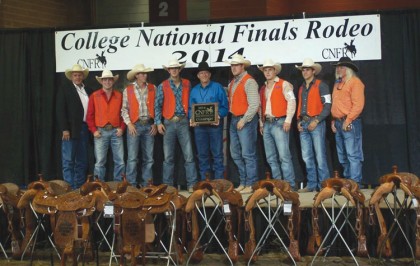 When it comes to sports at UTM, the rodeo team is seldom ever mentioned. However, the rodeo team is one of the most successful programs not only at UTM, but in the country.
The men's rodeo team proved just that when they recently took the 2014 College National Finals Rodeo National Championship.
"I felt very, very blessed," said head coach John Luthi. "I've been coaching for 33 years. For a long time, I've always had a goal to win a national title, but I finally figured out God put me here for more than that."
Luthi and the men's team finished last year winning eight out of the ten rodeos and finishing second at the other two events. The men's team later went on to win their 29th Ozark Region championship since 1976 and their 41st consecutive CNFR appearance.
"I told the team with the talent we had, if we work to be the best we can be, there's no limitations to what we can accomplish," Luthi said.
With this in mind, they snatched the overall lead on day two of the seven-day event and never looked back.
The Skyhawks won their first rodeo title and were the first team east of the Mississippi River to win the CNFR title, defeating Tarleton State by 25 points.
Despite last year's successes, Luthi is focused on this year.
"The bull doesn't remember what you did yesterday," Luthi said. "It's a whole new year and a whole new opportunity."
Despite losing some seniors this year, Luthi is confident in this years men's team.
"We lost some very talented individuals," Luthi said. "We've got some young people that we're going to depend on to come in and make an impact."
Luthi is also confident the women's team are ready to rise to the challenge.
"I think the women's team is getting a lot more mature," Luthi said. "They've been young the last two years, but that's not a reason anymore and I think they're ready to go up and deliver too."
Luthi is focusing on wining the level at hand and trusting God for the rest.
"The first thing we have to do is win at the regional level and that's what were going to focus on first. … As far as a repeat, that's in God's hands."
Featured Photo: Coach John Luthi (center), assistant coach Nelson Davis (far right) and members of the men's rodeo team pose with the CNFR plaque and saddles during the awards ceremony. (UTM Rodeo Facebook)