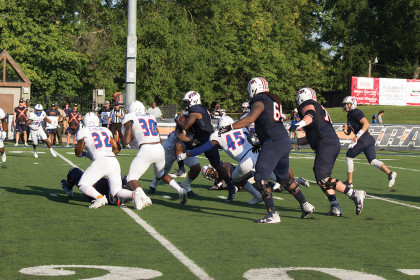 The 25th ranked UTM football team will face off against conference rival Murray State on Saturday Oct. 4, in a game where both teams need a win.
UTM is coming off of a heartbreaking loss in what turned out to be a defensive battle in last Saturday's game at Austin Peay. UTM went into the game ranked at 18, coming off of a convincing 31-16 win against Tennessee State, but would not score a single point in their outing against Austin Peay. The only score of the game in fact came early in the second quarter from Austin Peay running-back Terri Callahan ran 22 yards for the score. The score was 7-0 after the PAT, and there the score would sit until the clock struck zero.
UTM quarterback Troy Cook had a rough game against the Governors, throwing for 126 yards, two interceptions and getting sacked three times. Running-back Ladarius Galloway, who had over 150 yards in the first two games of the season, was held to 69 yards as well.
The UTM defense continued to shine as they have all year, allowing only 55 passing yards, snagging an interception and only allowing four third down conversions out of 13 attempts. The defense ranks first in the OVC in many categories, including scoring defense, rushing defense, redzone defense, 3rd down conversion defense and interceptions. The defense has held all opponents, besides Ole Miss who was held to only 10 points in the first half, to under 17 points, and recording UTM football's first shutout, in the season opener against Clarion (36-0) since 2011.
Murray State comes into Martin with a record of 1-4, their most recent outing a 55-10 loss against Louisville, who were ranked number 17 in the FBS standings going into the game. The Racers will be led by freshman quarterback Corey Newble who has 225 yards with four touchdowns on the season.
MSU has a bit of a quarterback controversy on their hands however, with junior first year transfer Shuler Bently vying for the position as well. Bently started the first three games of the season for the Racers, but when he was having a rough time in their game against Missouri State, Head Coach Mitch Stewart put Newble in. Newble seized the opportunity and has been the starter in the two games that followed. Bently sits at 527 yards with five TDs on the year.
Murray State's defense has already allowed over 1,000 rushing yards in five games so look for Galloway to possibly have a big game. The Racers have an effective defensive line when it comes to rushing the quarterback, however. MSU has tallied 13 sacks this season (compared to UTM's 10), more than half of those coming from just two players. Junior defensive lineman Kenney Wooten leads the defense with five sacks, followed closely by senior d-lineman Troy-Wayne Quinn who has four. UTM quarterback Troy Cook and his offensive line won't want Cook to get sacked three times again, but they'll have to make sure and put good blocks on Wooten and Quinn to keep Cook upright.
The series record between UTM and MSU sits at 35-20-1 in favor of MSU. UTM has been catching up in recent years however, winning 11 of the last 12 meetings and MSU has not won at Hardy M. Graham stadium since 2003. The game will serve as one of the conclusions to homecoming week for UTM, only a few events following after.
The game will be at Hardy M. Graham Stadium on Saturday Oct. 7 and will kick off at 2 p.m. It can be watched on the OVC Digital Network, or listened to on the radio at Mix 101.3 FM and WUTM 90.3.
(Junior running back Ladarius Galloway carries the ball of a ground attempt for the Skyhawks. Pacer Photo/Sarah Knapp)