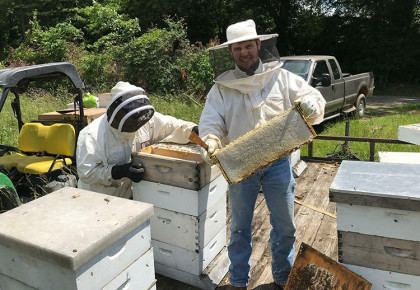 New honey products produced and manufactured on the UTM campus are now available in the bookstore for those that want to make their day a little bit sweeter.
"It's super popular and goes really fast," said bookstore employee, Kelly Wheeler.
The chap stick and bottled honey are the products of an apiary, or bee community, expansion. In addition to those 10 hives kept on Hyndsver Road by the Northwest Tennessee Beekeepers Association, another 10 were placed on the teaching and demonstration farm behind the hog barns in March 2017. Their residents were delivered in a three pound box and numbered between 9-12,000 bees.
"We were kind of brainstorming some ideas to do at the teaching and demonstration barn that would involve students, be educational and ultimately generate revenue," said UTM farm manager, Mike Pierce.
With the help of four to five student volunteers, Pierce maintains the hives and their inhabitants.
When the conditions are right, the team extracts the honey. The hive frames are removed and a spiked roller tool uncaps the wax sealer on the honeycomb cells. This wax is also collected to be melted down for the lip balm to be created in Paducah, Kentucky.
After breaking the wax seals the honey is strained through three filters (course, medium and fine) into a five-gallon bucket. It can look cloudy due to air bubbles which are released if it is heated up.
The team has done two extractions, collecting about 100 pounds of honey.
However, they must consider the amount of honey to be left behind to sustain the bees. For this reason, the harvested honey came from the older hives. Enough must be left behind to be used in the continual creation of comb.
"Without the comb the queen can't lay her eggs, they can't store the pollen, [and they] can't store nectar, so everything in that bee's life revolves around having comb," Pierce said.
He called it an "energy intensive" process. It takes approximately six to eight pounds of honey to produce one pound of comb.
Leaving behind honey is also especially important for the colder months. This amount is roughly 50 pounds per hive.
During winter the bees cluster together and eat the honey. Pierce recalled a previous season that his own bees would break from their group in between snows and starve no matter how close they were to their food, due to the sudden weather change.
This time of year the bees are kept on a strict, every other day feeding schedule and are given a 2:1 ration of sugar water.
Other hive maintenance activities include monitoring pests such as wax moths and hive beetles, assessing the queen and being aware of hive space. Too much space can hinder production and the bees' ability to handle pests. Too little space leaves them overcrowded and can cause them to swarm, or leave and form another colony.
"There's a lot of different things we're keeping an eye on," said student participant, Kiersten Bell. Bell is a sophomore agriculture major from Pickerington, Ohio. "We just want to make sure that they're doing their job, but that they're also comfortable with the space they have."
Bell had beekeeping experience working with her uncle and began helping at the UTM apiary in August.
In addition to hive maintenance, she stocks the items in the bookstore. After the first delivery, honey sold out. By the time she made her second delivery, there was a waiting list for more and people approached her as she was putting it on the shelf.
"Literally seeing it from the very start of just a box of bees all the way up into an established bottle of honey has been a really, really cool process through and through," Bell said.
Eric Braselton, a junior agriculture major from Greer, South Carolina, is also part of the crew.
"I think I've always found bees interesting because of all of the different health benefits honey has," Braselton said, speaking of headaches, stomachaches, fatigue and allergies. "… It (pollen) gets in there and it's kind of like a little vaccine."
Braselton began by working with the original hives, which the beekeeper's association used for teaching purposes. He has since gotten his own three hives off campus and joined the association.
When working with the bees, they use a smoker that burns pine shavings to calm the bees.
"There are some hives that couldn't care less," Bell said. " .. They're silent and doing their own thing and then some hives, the minute you take that lid off there's bees on the mask."
For protective gear, the students have access to bee jackets, one suit and also wear gloves, which are sting resistant, but not sting proof.
Bell had never been stung before volunteering her time with the apiary. She recalled getting stung on her finger, wondering if she was going to "balloon up" and pulling the large bee jacket down too far on her legs and bees getting in her jacket.
"The itch is probably the worst," she said. "You itch for days after it and it's a big, red welt."
The students have also been involved in community presentations to the Martin Kiwanis and the Young Cattleman's Association. They plan to visit Martin Elmentary and the 21st Century Club.
"I think with the interest there is, and with the Ag Department, eventually I hope it will become a class," Pierce said.
The chap stick is $5 and a one pound bottle of the honey is $10. All proceeds go directly toward the project and future expansion.
(UTM farm manager, Mike Pierce (left), and student volunteer Eric Braselton work in the apiary. Photo Credit/Eric Braselton)