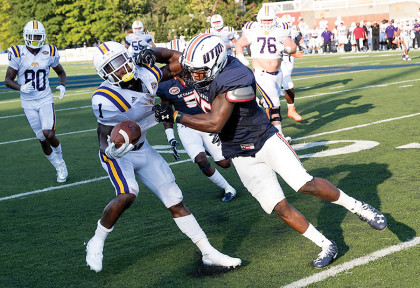 The UTM football squad will open OVC play this Saturday, Sept. 23 at 4 p.m. against the undefeated and in state foe Tennessee State University.
UTM is coming off of a convincing win against sister school UT Chattanooga in which UTC didn't lead once, and whose only score came in the third quarter. Quarterback Troy Cook is coming off of his best game of the season against UTC, where he finished with a completion percentage of 76.2%, threw for 183 yards, 3 TDs and no interceptions. Cook was smart with the football against UTC, and showed his Senior skill and poise in his 3 scores.
Running back Ladarius Galloway was held to only 79 yards against UTC and no score, whereas against Clarion he rushed for 157 yards, Ole Miss for 188 yards, and a score in both games. That's a task that's easier said than done for Galloway, as Tennessee State's defense does not budge, only allowing a combined 202 yards and 1 TD on the ground in their first three games.
On the defensive side of the ball for UTM, Jr. defensive lineman Anthony Brown got his first two sacks on the year against UTC and will look to continue his pocket pressure play against Tennessee State. On the other hand, Jr. linebacker James Gilleylen had no sacks against UTC and had one in each of UTM's first two games, so he will look to get at least one against Tennessee State to continue the streak he had going. Gilleylen's lack of an individual statistic may have been because UTC's quarterback was sacked 5 times in all, proving that as a team the defense was able to keep him under pressure for much of the game.
Looking at the opponent, Tennessee State, who come in 3-0, a hard earned record as they pulled out a close win against Jackson State (17-15) in their second game. Already mentioned was their impressive defense against the run, but one of the main reason's they're ranked 20th coming into this contest, is because they lead the league in pass defense, scoring defense and total defense.
The Tigers come into Martin with a defense that has 3 interceptions, and 7 sacks so far this season; compared to UTM's 4 interceptions and 7 sacks, the defenses just might be what makes or breaks this game. Their offense is led by quarterback Treon Harris, who is a threat both in the air and on the ground. Harris has thrown for 434 yards and 2 TDs so far this season, and leads the team in rushing yards (219), and has 2 rushing TDs on the year as well. UTM's D-line and linebackers will have their hands full dealing with Harris on Saturday.
It should be noted that UTM sits at 2-1, the one loss coming in a defeat from SEC team Ole Miss in which UTM led until 24 seconds left in the first half. Tennessee State has not played a team in such a conference as the SEC however, but the Tigers, no doubt, have a formidable team. The game on Saturday will be a good test for both teams, each team wanting to come away 1-0 in OVC play.
The matchup against Tennessee State will be the first in 3 games for UTM for who will win the Sergeant York Trophy by the end of the year. The other three schools are Austin Peay, Tennessee State and Tennessee Tech; if the UTM football team wins the trophy again this year it will be the fourth year in a row that they have done so. The game will be held at Hardy M. Graham and can be watched online at ESPN3 or listened to on the radio at Mix 101.3 or WUTM 90.3.
(Photo Credit/Sports Information)