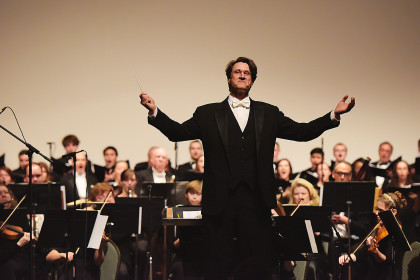 Dr. Mark Simmons has been named associate conductor of the Jackson Symphony Orchestra.
Dr. Simmons, associate professor of music at UTM, released a statement accepting the position and expressing his excitement at being selected.
"I am very excited to be part of this dynamic and growing cultural gem in West Tennessee," said Simmons. "Under Maestro [Peter] Shannon's leadership, the organization is making incredible artistic strides, and I am thrilled to have an opportunity to support him, the staff at the JSO and the mission of the orchestra as it moves into the 2016-17 concert season. Working with musicians of this caliber is an honor, and I am deeply grateful for this opportunity."
Simmons has taught at UTM since 2004, and currently manages all aspects of the university's choral program. He has led UTM's elite auditioned group, the New Pacer Singers, in state, domestic and international tours, including full-length concerts in such notable venues as the Baltimore Basilica; St. Bartholomew's Church in New York City; the Crystal Cathedral in Garden Grove, California; and the National City Christian Church in Washington, D.C.
The New Pacers ensemble has also performed previously in Christchurch and Dunedin, New Zealand, and has returned there for an additional tour this summer under Simmons' direction.
Prior to his work at UTM, Simmons held positions at Ithaca College in New York, Briar Cliff University in Iowa and the University of Evansville in Indiana.
Peter Shannon, the music director and conductor of the JSO, said that Simmons would be a welcome addition to the organization.
"I am delighted to welcome Mark as associate conductor of the Jackson Symphony," said Shannon. "Dr. Simmons is an excellent musician, and I'm excited to share my European background as a conductor with him. The Jackson symphony is always on the lookout for an opportunity to collaborate with valuable organizations or individuals, and we have both in Dr. Simmons and UTM."
For more information, contact Simmons at marks@utm.edu or learn more about the Jackson Symphony at thejacksonsymphony.org.
—
Feature photo: Dr. Mark Simmons, associate professor of music at UTM, is shown conducting a performance of the Jackson Symphony orchestra. (Photo Credit/University Relations)