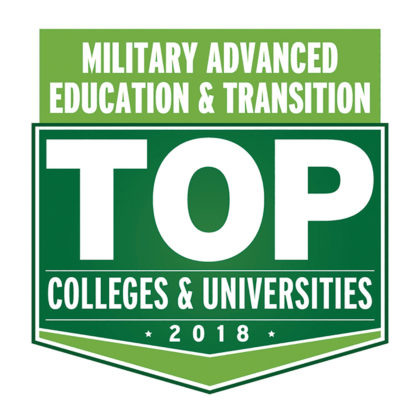 UTM has been reclaimed as a  2018 Military Friendly School by Victory Media and the 2018 Military Advanced Education and Transition Guide to Colleges and Universities.
Universities receive this designation through dedication to serving veterans and active duty service members, providing multiple programs and events benefitting veterans who are pursuing higher education. Awarding this designation allows veterans to make the best choice when selecting universities that will serve their needs and provide a better outcome for their future. 
Since 2001, Military Friendly has worked to identify education and employment opportunities for the military community that have continued to serve veterans in many different ways.
Over 1,300 universities were evaluated from three categories: public data sources, proprietary data from surveys conducted and personal statements from student veterans themselves which led to 849 schools earning the Military Friendly designation. 
"Military Friendly is the standard that measures an organization's commitment, effort and success in creating sustainable and meaningful benefit for the military community," as stated in their mission statement.
UTM has earned this title in the most recent years 2015, 2017 and 2018. The University lost the designation in 2016 due to its SACS Accreditation probationary status, but prides itself on regaining the title through its dedication to serving UTM veteran students. 
"(The designation) really gives UTM something to be proud of. UTM really helped me my first year getting signed up for VA benefits and now the Cadre for ROTC helps me to pursue a career as an officer," said Remington Burch, a junior Military Science major from Trenton. "UTM has given me a great opportunity by making the transition from Enlisted to Cadet a smooth one. This has made it so I can be an officer in the United States Army."
Daniel Nichols, Victory Media's Chief Product Officer said, "Our ability to apply a clear, consistent standard to colleges creates a competitive atmosphere that encourages colleges to invest in programs to provide educational outcomes that are better for veterans." 
UTM provides many veterans services such as the Skyhawk Veterans Association (SVA), a fully furnished veterans lounge in the Boling University Center, a Veteran Services Coordinator, scholarships, access to mobile VA's and much more. UTM is also a designated Vets Campus.
The 2017-2018 Military Friendly Schools list can be found in the December 2017 issue of G.I. Jobs magazine and can also be accessed online at militaryfriendly.com.
For a full list of veterans services offered at UTM, visit http://www.utm.edu/departments/veteranaffairs/.
(Graphic Credit/ Military Advanced Education and Transition Top Colleges official logo)