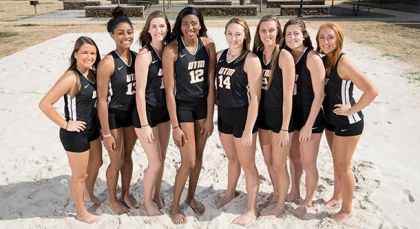 The Skyhawk women's beach volleyball team will have their inaugural matches in Franklin, Tennessee, on March 17-18.
Interim Athletic Director Kevin McMillan announced the addition of beach volleyball to the UTM sports program on August 8 of last year, and now their inaugural season is about to begin. On Friday, the team begins play against Central Arkansas at 12:30 p.m. and at 5:30 p.m. against Carson-Newman. Then on Saturday, March 18, they will face Missouri Baptist at 2 p.m. and Austin Peay at 6 p.m.
The team will be led by head coach Jaclynn Yocum, who is also the head coach of the indoor volleyball team, and assistant coach Julia Noe. The roster features a nine-woman lineup, eight of whom played on the indoor volleyball team in the fall.
Unlike indoor volleyball's 6v6 style of play, beach volleyball consists of 2v2 competition, as well as a smaller playing area. The matches will be played in a best-of-three format, meaning the first school to win three out of the five matches wins the contest. UTM's teams will be freshmen Macy Catlett and Hannah Phillips, juniors Rachel Noffsinger and Hayley Gray, juniors Jemima Idemudia and Macy Reigelsperger and junior Kelly Lean and senior Saphyra Coombs-James. Senior Sarah Shaw, who is also a member of the team, will not participate in the matches due to an illness.
The team's players and coaches are optimistic for a good season. Beach volleyball is fairly new to college athletics, but has been a fast-growing sport since its start. The first Division 1 NCAA beach volleyball championship tournament was held last year. Moreover, Jacksonville State was the first member of the Ohio Valley Conference to officially sponsor a beach volleyball team.
UTM will not be the only school to join Jacksonville State in OVC beach volleyball this year. Austin Peay and Morehead State also have instituted teams of their own for this spring.
The matches will be held at the Franklin Beach House, the only indoor beach volleyball arena in the Southeast.
Members of the women's beach volleyball team (L-R) Macy Catlett, Sarah Shaw, Hannah Phillips, Jemima Idemudia, Hayley Gray, Rachel Noffsinger, Macy Reigelsperger, and Kelly Lean take on three teams this weekend in their inaugural season.  Photo Credit/Sports Information