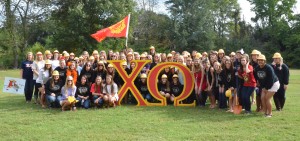 MARTIN, Tenn. — The University of Tennessee Board of Trustees approved the naming of one of four new sorority structures at UT Martin this past Thursday afternoon at its June meeting in Knoxville.
The full board unanimously approved the name of the Pat Head Summitt Chi Omega House at UT Martin when it met in Hollingsworth Auditorium on the Institute of Agriculture campus.
UT Martin proposed the Chi Omega Sorority structure be named the "Pat Head Summitt Chi Omega House" in honor of Pat Head Summitt, benefactor and an athletic, academic and volunteer leader of the university.
Alpha Delta Pi, Alpha Omicron Pi and Zta Tau Alpha, all founded on the UT Martin campus in the early 1960s, will build new two-story structures on the southern edge of campus near University Courts.
Summitt was born Patricia Sue Head in Clarksville. She attended UT Martin where she was a member of Chi Omega and earned All-American honors playing for the women's basketball team. Just before the 1974–75 season, with women's college basketball still in its infancy and not yet an NCAA-sanctioned sport, the 22-year-old Summitt became a graduate assistant at the University of Tennessee and was named head coach of the Lady Vols after the previous coach resigned suddenly.
Summitt co-captained the first United States women's national basketball team as a player in the inaugural women's tournament at the 1976 Summer Olympics, winning the silver medal. Eight years later, in 1984, she coached the U.S. women's team to an Olympic gold medal, becoming the first U.S. Olympian to win a basketball medal and coach a medal-winning team.
Summitt holds the record for most all-time wins for a coach in NCAA basketball history of either a men's or women's team in any division. She coached from 1974 to 2012, all with the Lady Vols, winning eight NCAA national championships.
The date of an official naming ceremony will be determined upon completion of the new house.
Featured Photo Credit: (Mary Jean Hall)