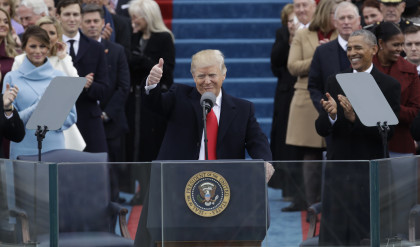 Donald Trump was sworn in as the 45th President of the United States earlier today at 11 a.m. EST.
Trump, a member of the Republican Party, will succeed outgoing Democratic president Barack Obama, who served two four-year terms in office.
Trump was sworn into office by John Roberts, Chief Justice of the United States Supreme Court.
In his inaugural address, Trump vowed that his presidency would be concerned with putting "only America first."
"America will start winning again, winning like never before," said Trump. "The time for empty talk is over. Now arrives the hour of action."
Trump also addressed a need for national pride. As one of his first actions following the inauguration, Trump signed a proclamation calling for a national day of patriotism.
"What truly matters is not which party controls our government, but whether our government is controlled by the people," said Trump. "January 20th, 2017, will be remembered as the day the people became the rulers of this nation again."
Trump was elected on Nov. 8, 2016, following a controversial campaign in which he faced Democratic nominee Hillary Clinton. Although Trump won the necessary number of electoral votes to be elected president, CNN reported that he lost the popular vote by almost 3 million votes, the largest margin of defeat in a popular vote by any president. Trump enters office with an approval rating of approximately 40%, the lowest approval rating of any incoming president, according to the New York Times.
The inauguration itself saw its share of unrest as well. Large groups of protesters blockaded the scheduled route of the inaugural parade, clashing with Trump supporters and police. Demonstrations intensified as police used implements such as pepper spray and flashbang devices, according to multiple news outlets such as the New York Times and CBS News. The Washington, D.C. Metropolitan Police Department reported that approximately 95 protesters had been arrested as of early Friday afternoon.
Trump's term will last for four years. He will be eligible for re-election in November of 2020.
Feature photo: Donald Trump delivers a thumbs-up to the audience in attendance during his inaugural address. (Photo Credit/Associated Press)