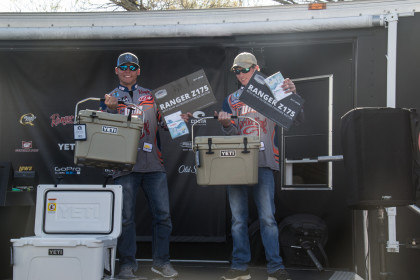 The UTM Bass Fishing team sent seven boats to the YETI FLW College Fishing Open the weekend of April 8th on Kentucky Lake, and one of those lucky boats came back a winner.
Dylan True is a junior Agriculture-Business major who has been fishing since he was three years old. His fishing partner, Matthew Lamastus, has also been fishing since he was very young, getting his start at six years old. When they entered the tournament on Kentucky Lake, they did not expect to win, and mostly hoped to qualify for next year's tournament. After pre-fishing the weekend before and the day before, their days in the hot sun paid off. True and Lamastus brought in 25 pounds, 15 ounces on Friday, barely claiming the lead over a team from Murray State.
To weigh-in a fish for a college bass tournament, the fish must be at least 15 inches long. This rule created problems for anglers on Saturday's half of the tournament as many came up "short." Anglers who catch a "limit" bring in five fish that each meet the length requirement. True's team was one of few to catch a limit on both days and that meant slowing it down and practicing patience. The second day's haul brought in a total of 44 pounds, 4 ounces which secured the lead only four pounds over the second place team.
True and Lamastus won over $30,000 worth of products including one YETI cooler each, a Ranger/Evinrude bass boat package to share and one Navionics navigation card each, along with other prizes sponsored by Costa, Zoom and Plano.
True caught his personal best in the tournament, a large mouth bass weighing in at 7 pounds, 14 ounces, using a Strike King Series 5 Crankbait in Chartreuse Sexy Shad.
All the anglers present said that they had a harder time on Saturday than Friday. Most anglers who caught a limit said that they did so by slowing down every minute and trying to remain patient. Lamastus and True recommend that anyone who wants to start fishing competitively remembers that it's a mental game and spends plenty of time on the water.
True is the Bass Fishing Team president at UTM and the duo will be fishing again in the Lake Cherokee tournament on May 11. UTM worked hard to beat their rival Bethel, which Lamastus believes to be the more visible of the schools in this region for fishing because they have an athletics program for their anglers.
"This win [can] help get our name out there as a club and let students know that college fishing is offered here at UTM," said True.
Other anglers on the team have high hopes for UTM's team becoming a university-recognized athletic team.
For more information about the UTM Bass Team, contact club president Dylan True at dylbtrue@ut.utm.edu.
Dylan True (left) and Matthew Lamastus won it all at the YETI FLW College Fishing Open on Kentucky Lake (Pacer Photo/Rachel Moore).