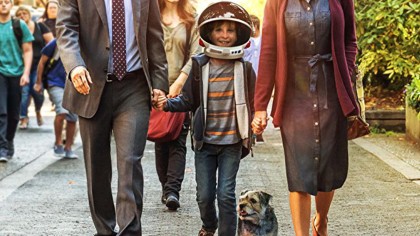 What does it mean to be normal? Is it having nice, expensive clothes? Wearing make-up? Being skinny? Having the perfect body shape?
The truth is, none of that stuff really matters. You do not have to be "normal" to be accepted. August Pullman (the main character in the movie Wonder) was an ordinary fifth grader like everyone else.
Like all of us, August had many insecurities about the way he was made due to his 27  facial reconstruction procedures. Auggie was an extraordinary boy that could change the way people thought and saw but he could not look far enough past the mirror to realize what he was capable of.
Auggie was born with a gene that both of his parents shared which developed a unique construction in his face from everyone else. In an alternate universe, his sister Olivia (Via, as everyone called her) would have carried the same gene as Auggie but for some reason, the gene passed through her and went straight to Auggie.
With Auggie's insecurity grew the family bubble that made him the center of their universe. Auggie got most of the attention while his sister Via just sat in the background and tried to support Auggie even if it meant that she felt less love and attention from their parents.
When Auggie was little, he received an astronaut helmet from Via's best friend Miranda. It was his favorite thing in the world. He wore it all the time and barely ever took it off. While Auggie was homeschooled until the fifth grade, he grew conspicuously attached to the helmet and wore it during his lessons as well as at meal time and to family outings.
When Auggie started the fifth grade, he was scared that everyone would make fun of him for being "different". He wore the helmet until his dad finally hid it and told no one about it. With this, Auggie had no choice but to go to school and walk around without the helmet.
Though it was incredibly difficult, Auggie was a fighter. He looked down all the time while acting like nothing bothered him. Kids would avoid being around him or even touching him because they were scared they would get "the plague".
When Auggie first started school, he made a good friend named Jack Will. Most times, Jack was the only person that would hang out with Auggie and be friends with him because in the moments that they had together, Jack Will saw past Auggie's insecurity and straight to his heart.
Auggie had an incredible personality. He was extremely smart in science and had an amazing sense of humor. Like most of us, Auggie developed his sense of humor as a coping mechanism to get through his insecurity. Auggie was a Wonder.
All in all, we all have a bit of Wonder in us all. Everyone has an insecurity that they could never get rid of no matter how hard they try, but if we look past our insecurities like Auggie courageously did despite the reactions of his peers, we could make a difference and change the way others see us. If you cannot change your circumstance, then change your perspective. As Auggie's sister Via reminded him every day, "Why blend in, when you were born to stand out?"
(Photo Credit/Creative Commons)