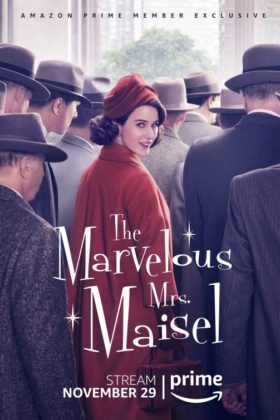 So you've gone mad for the ad men of New York, laughed and cried along with Rory in Gilmore Girls, and it's time to prep your couch and popcorn for the next binge that will leave you craving more. The Marvelous Mrs. Maisel will earn the next cued spot on your evening time slot because it is nothing short of the title's self-proclamation, "marvelous."
An Amazon Prime original, The Marvelous Mrs. Maisel was released in early 2017 and is just now gaining steam among many younger audiences seeking new shows to consume. I know I enjoyed spending my break luxuriously basking in the 1950s New York limelight that I longed to witness firsthand.
With excellent costume design, a quick-witted and feisty brunette and a look at Jewish culture often unexposed with such humor, this show had me laughing from the outset. But what more could audiences really expect from creator Amy Sherman-Palladino, who is most notably known for her work on Roseanne and Gilmore Girls?
Miriam "Midge" Maisel, played by Rachel Brosnahan, has everything a late-'50s housewife could want: the perfectly decorated Upper West Side apartment home, beautiful kids, a well-paid husband and parents who live close by. She spends her evenings supporting her husband's hobby the only way a woman could – through the stomach of the man in charge.
When Midge's world turns upside down, we are exposed to the fast-paced and competitive nature of New York's comedy scene and all of the complications that come along with it. In Midge's world, much like that of Mad Men, the colors are vibrant, the music timeless and the people's eyes always turned in her direction.
When you sit down for this comedy, be prepared to laugh but, more so, find yourself ready for another real-world look at the roots of women forcing their way into traditionally male careers.
The Marvelous Mrs. Maisel has won two Golden Globes, and includes fan-favorite cast members Alex Borstein, the voice of Lois from Family Guy and Tony Shalhoub from Monk.
Season 2 of Mrs. Maisel is expected to hit Amazon Prime this coming spring and you can bet that the wit and excitement won't slow down, just as Midge's monologues won't.
(Image Credit/ impawards.com)