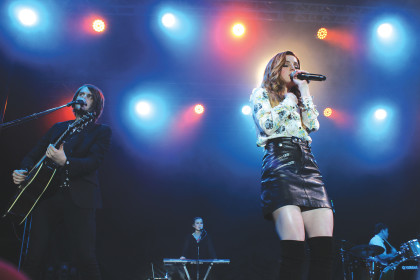 Echosmith performed for a large crowd of UTM students and Martin community members during the 2017 Soybean Festival UTM Student Night hosted by the Student Activities Committee.
The indie pop band of siblings Sydney (lead singer), Noah (bassist), and Graham (drummer) Sierota from Los Angeles, California, have been performing together since 2009. Growing up in a musically inclined family, Sydney, Noah, Graham and their older brother Jamie, who previously played guitar for Echosmith, bonded over performing together.  The band began and their music continues to be a family affair as their father Jeffery David is their tour manager.
Their first hit "Cool Kids" ranked 13th followed by "Bright" ranked 40th on the Billboard Hot 100 and lasted 20 plus weeks on the chart. Their successful debut album "Talking Dreams" was released in 2013 giving them their start into the music business. Young adults and teenagers found the insecurities shared in the lyrics of "Cool Kids" relatable, "She sees them walking in a straight line, but that's not really her style/ And they all got the same heartbeat but hers is falling behind… I wish that I could be like the cool kids/ Cause all the cool kids they seem to fit in…"
As Sydney introduced  their final song, heartfelt cheers could be heard all around as the first notes of "Cool Kids" began playing. When asked what song students in the crowd were looking most forward to, "Cool Kids" was answered 90 percent of the time.
Freshman Sam Moore from Memphis, was excited to see Echosmith live because he has been listening to them for years now.
"Listening to music on an iPod is one thing but the emotional connection a band makes with a crowd during a concert is incredible," Moore said. "They already make a great connection with college students through their music so seeing them live is awesome."
Through their music, Echosmith hopes to inspire everyone who listens to them. Sydney ended the concert by tributing the song "Cool Kids" to every person in the crowd who ever felt that they were not good enough or didn't feel loved and reminded them that they are worth more than they could imagine.
"We believe that we're on this earth to help make a difference," says Sidney to Billboard about their goals as musicians. "Music is just a vehicle, but our purpose is to bring hope."
(Pacer Photo/Katlyn Griffis)