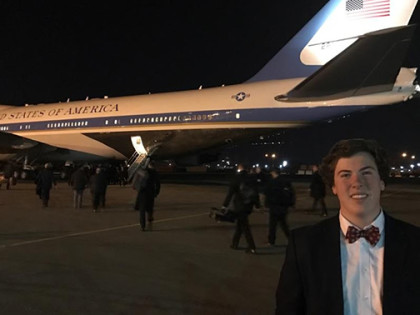 Alex Joyner, junior Political Science major, is the president of the UT Martin College Republicans and is from Paris, TN.
Joyner was contacted Monday, March 20, 2017, by a worker of the Donald Trump administration and was asked if he or any other students in the UTM College Republicans would like to volunteer as drivers in the presidential motorcade. Their help would be utilized in Nashville on Wednesday, March 22. Joyner said yes without hesitation. Johnathan Williams, a student from Bethel University, is the only other student who participated.
After submitting a background check, Joyner received his detailed instructions from the personnel in charge and left early Wednesday morning for Nashville.
Joyner drove U.S. Senators Corker and Alexander, joking with them as they passed a pancake place. "Y'all hungry, you want to stop?" Joyner said.
To which he says that Senator Corker responded, "Well, senator, I see we have one with a personality!"
When they arrived at the Hermitage, the two Senators got out to see the president. All drivers had to stay in their vehicles, with motors running, in case of an emergency. They sat outside for an hour and a half while President Trump addressed state legislators.
Each driver had a radio in their vehicle that kept them in contact with the Secret Service. One detail Joyner recalled was someone speaking on the radio saying, "The mags are not working."
Joyner was confused until he heard someone say "metal detectors."
Joyner believes that because there were so many people at the rally, security had to push people through in a quick amount of time. However, the metal detectors could not function at fast speeds.  
As Joyner talked with staff members, he learned that there was "no reason for President Trump to come to Nashville." Joyner says this gave him more respect for the president.
There were over 30,000 people wanting to attend the rally. After President Trump's address, the presidential motorcade, which consisted of over 50 vehicles, took place.
Joyner later drove back to Air Force One where he dropped off congressmen. He later said that he thought this plane was only for the president, but eventually found out that it is "like a caravan for congressmen all over who are going back to Washington, D.C."
Joyner encourages students who want a career in politics to make connections. He currently serves as State Chairman for the Tennessee College Republicans. His focus is building leadership for Tennessee politics, as well as helping young republicans who one day may lead this nation.
"All you have to do is show up and give effort," Joyner said.
Alex Joyner, president of UTM College of Republicans, participated in President Trump's motorcade last week in Nashville (Photo Courtesy/Alex Joyner).