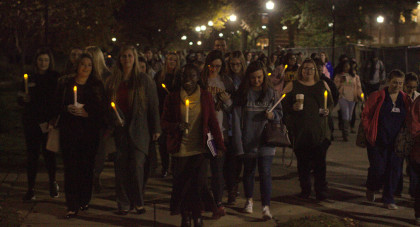 A group of people holding lit candles gathered Tuesday, Nov. 14 on the University Center patio around 5:30 p.m.
Several UTM percussion students played an instrumental piece before Health and Wellness Educator John'Na Webster introduced everyone to the message of the Stigma Cutting ceremony. Webster said that 1,100 college students take their own lives every year, and that getting help is an absolutely okay thing.
"The lights are meant to light the way for those to get help," Webster said.
Webster led the walk from the UC patio over to the Student Health and Wellness Center near Cooper Hall and Phase I apartments. The front door to the health center was adorned in bright Christmas-style lights with a purple ribbon that bore the word "stigma". Shannon Deal, Director of Student Health and Counseling services, and Jennifer Hart, clinical coordinator, began the ceremony by giving a brief introductory speech.
According to Deal, the health center does not just provide remedies for minor sickness. Any student can call to set up a medical or counseling appointment. Deal said that her motto concerning counseling is that "two heads are better than one" when dealing with mental illness. Both Deal and Hart expressed that the health center is a safe and friendly place that any student can go to with any kind of mental problem.
After the introductory speech, they presented Brianna Hampton, a senior from Westview High School who plans on becoming a Skyhawk next fall. Hampton played an instrumental piece for the crowd on her saxophone before the president of the National Alliance for Mental Illness (NAMI) UTM chapter, Bailey Esch, gave her speech on the issue of the stigma associated with getting help.
Esch, a senior cell and molecular biology major from Gleason, plans on going to pharmacy school at Union University. According to her, 1 in 5 adults will experience some kind of mental health issue in their life. She also stated that you don't have to have a mental illness to be apart of NAMI, as anyone is welcome to join.
"The purpose of NAMI is not to be your doctor; it's to be your friend," Esch said.
After Esch spoke, Webster gave her own experience of mental health problems. She used this time to introduce keynote speaker Melinda Davidson, who is a senior history major and political science minor. Davidson is a non-traditional student who grew up in a military family. While she resides in Cornersville, now, she has lived in 28 different countries and 35 different states over a 24 year span.
Davidson went on to give a very emotional speech in which she discussed her struggle with bipolar disorder, drugs and losing her sister to cancer. Her father also had Post Traumatic Stress Disorder (PTSD). Her message was that people suffering from mental health problems are not alone and that it is okay to seek help, no matter the circumstance. After her speech, she proceeded to cut the purple stigma ribbon blocking the entrance to the health center, a metaphorical representation of cutting the negative social stigma around mental health issues.
The Student Health and Counseling Center is open Monday through Friday from 8 a.m to 4:30 p.m.
Walk-in counseling services can be arranged from 10 a.m. to 2 p.m.
(Students and community members join together in the march to end mental illness stigmas for the University Center and to Student Health. | Photo Credit/ Ben Greer)