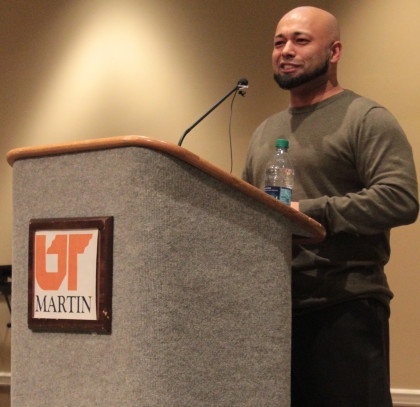 Former undercover operative for Canadian authorities, Mubin Shaikh, shared his personal story with UTM faculty, staff and students on Wednesday, Feb. 1 in the Boling University Center ballroom to teach about Islamic radicalization and terrorism.
"You're the next generation, especially those who are in public safety programs," said Shaikh, writer of the book "Undercover Jihadi."
"I want to make sure that the people who are going to staff something as important as national security or public safety that they have the right information because the wrong information gets you bad intelligence, and can get you injured or killed."
David Moore, UTM criminal justice instructor, sought out Shaikh to speak after speaking to a friend about his concern.
"I really feel like one of the things we're lacking in local law enforcement training is that which is happening in our towns right now in North America, and that is the radicalization of our youth," Moore said.
A Canadian born Muslim, Shaikh was crucial in bringing members of the Toronto 18 to justice and has participated in other counter-terrorism efforts. However, he once identified as a Jihadi extremist.
Shaikh was born in Toronto to a conservative family with a Western lifestyle. As a child he attended public school during the day, and at night he attended another school to learn the Quran. This clash of cultures began what he called an "identity crisis."
As he became older, this internal conflict built. He described himself as "one of the cool kids" in high school and lived a wild lifestyle that contrasted with that of his family. He was frequently reminded of this by family members.
An illustrated concept in the presentation was a list of things that young people start to become aware of that can become a recipe for action. They are geopolitics, depravation and frustration, conflicts over meaning and identity, adventure and money. At this point in his life, Shaikh believes that he was struggling with several of these issues.
Once when his parents were out of the country he threw a house party but was caught by an uncle. Shaikh remembered how angry he was, saying, "How dare you defile the house where people pray by bringing non-Muslims here."
Convinced that religious involvement would "fix" what he was feeling, he joined a non-political conservative group called Tabligh Jamaat, with whom he travelled to Pakistan and India.
During his time abroad, Shaikh had a chance encounter with the Taliban. Seeing their weapons, he engaged with them, saying that world change would come through more prayer and fasting. One man's reply was that they were doing that with guns. Changed by this man's words, Shaikh returned to Canada and joined a more extreme group.
His opinion began to change after the events of 9/11. He initially rejoiced about the news. However, he recalled his employers telling him to inform them if anyone bothered him, and getting phone calls from both friends that were and that were not Muslim. He also remembered wondering why innocent people were targeted and left the group.
He later traveled to Syria to pursue a degree in religious studies. While there, he went through what he called a "theological reframing" and met a scholar that debunked his radical interpretations and helped him to see differently.
Upon returning to Canada in 2004, he saw that a man that sat next to him as a child in Quran school, named Momin Khawaja, had been arrested on charges of terrorism. He contacted the Canadian Security Intelligence Services on behalf of Khawaja, saying that he knew him and that it must be a mistake. He was told that it was no mistake but was asked to come speak to authorities.
He then became an informant for CSIS by identifying whom he considered a threat to national security. During this time, he went undercover to expose the plans of the Toronto 18 and also worked online exposing recruiters.
In addition to the personal narrative, Shaikh discussed radicalization and outlined the difference between an extremist, violent radical and violent extremist.
"To be radical is ok," said Shaikh, who is pursuing a doctorate in psychology from the University of Liverpool. "Mahatma Gandhi, Martin Luther King- they were called extremists, some of them were called terrorists, but then people realize as the lens of history looks back that it was an acceptable kind of radicalization."
As part of the speech, he also discussed recruiting tactics and training methods used by ISIS. Largely concentrated through social media, viewers are promised good food and even romance. The platforms also serve as a place of circulation for propaganda.
"This is a recruiting bonanza for ISIS," Shaikh said when asked about his opinion concerning the immigration executive order. "The propaganda victory they've just been given, you're not even beginning to see the effects of it."
Once recruited, trainees undergo many different desensitization activities including watching graphic Jihadi video and recorded beheadings.
The presentation ended with an analyzation of the religious grounds that extremist groups claim as justification for their actions. Shaikh countered this ideology using examples such as the First Calif of Islam, words of influential scholars and Shaykh Muhammad Al-Yaqoubi's work, "Refutting ISIS: A Rebuttal of It's Religious and Ideological Foundations."
"ISIS isn't Islamic. They don't even know their own religion," said Shaikh. "They wear Islam like a costume."
Subject Matter Specialist Mubin Shaikh speaks to UTM about terrorism and terrorist groups. (Photo Credit/Sarah Knapp)