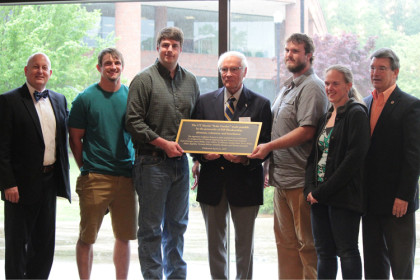 Faculty, staff, students and community members gathered together on April 21, 2017, at the Welcome Center for the dedication of the Solar Garden.
The installment, which features two smaller flowers and a large center tree all equipped with solar panels, was a collaboration between senior art and engineering students as well as members of the community.
"This was an experiential learning opportunity for the students," said Dr. Jerald Ogg, Provost and Vice Chancellor for Academic Affairs. "Like anybody that knows anything about UT Martin understands, one of our touchstones, one of the things that makes us who we are, is we give our students opportunities to not only learn in the classroom but to do things outside the classroom."
As part of the ceremony, Chancellor Dr. Keith Carver, Chancellor-Emeritus Dr. Robert Smith and project donor, UTM alumni William Blankenship, unveiled the structure's plaque, which detailed this partnership and gave credit to those that worked on the project.
Among those present and honored for their work was graphic design graduate Ethan Appleby and graduate engineering students, Brice White and Joseph Sipes.
"It's nice to come back and see all of our work come together and see everybody and how happy they are with everything and how it's turned out," said Sipes, who now works for an electric company in Henderson, Kentucky.
Also present was Sara Haig, Visual and Theatre Arts assistant professor, who served as the supervisor of the art team.
"It never would have finished if she (Haig) hadn't personally spent hour, after hour, after hour devoted to finishing this," Smith said. "She just did a fantastic job."
The creative process began in September of 2015 and it was completed in November of 2016 with the installation of the decorative aluminum leaves, made by South Fulton, Tennessee, custom metal fabrication company, Waymatic.
It began when Smith approached Dr. Richard Helgeson, dean of Engineering and Natural Sciences, and asked if there were any solar structures on campus.
"Well that's horrible because if we want students to understand alternative energy then we've got to at least have something demonstrable," Smith recalled as his answer when Helgeson responded that there was not.
Helgeson then told him that he knew of someone who would be interested in a solar project and introduced him to Dr. Doug Sterrett. Sterrett produced a picture of a tree in Toronto, Canada, and saying that he had always wanted to build one of those. Smith agreed to the solar tree idea and approached Blankenship about sponsoring the endeavor.
"What I do for Martin and what I've been able to do is because of what it's been for me. I love to help the place but I don't do it for the notoriety," said the member of the Chancellor's Roundtable. " … You can tell I care about this place a little bit."
Over the next several months, students from both sides of the project worked to complete their portion.
Haig recruited the help of students Victoria Falcon, Thomas Kendall and Franklin Hawks, in addition to Appleby. The art students worked on the visual design of the project and also designed the tree's trunk, which is made of layers of recycled paper and coated in resin.
Sterrett captained the engineering team which included students Jared Miller, Zachary Dysinger, Ty Roberts, Cory Oliver, White and Sipes. They contributed to the structural design and did some technical assembly.
Now finished, the tree stands over 12 feet tall and consists of 24 solar panels with a GPS tracking system for optimal sun exposure. The two accompanying flowers stand eight feet in height and each have eight panels. The tree serves as a lounging area complete with a charging station.
"It is a wonderful collaboration of what our alums do and what our talented faculty and students do here everyday," Carver said.
From L-R: Chancellor Dr. Keith Carver, alumni Brice White and Joseph White, donor William Blankenship, alum Ethan Appleby, Visual and Theatre Arts assistant professor Sara Haig and Chancellor-Emeritus Dr. Robert Smith are pictured with the commemorative plaque for the Solar Garden at the dedication ceremony (Pacer Photo/Sara Knapp).