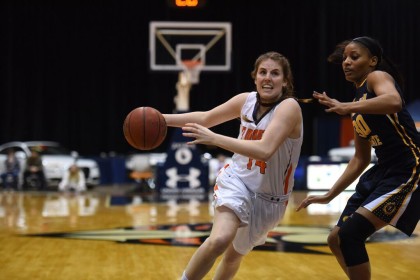 The Skyhawk women's basketball team improved their winning streak to seven with a 92-62 win over Ohio Valley Conference rival Murray State.
It was an all around team effort for the Skyhawks, who found success on both the offensive and defensive sides of the ball.
The Skyhawks got off to a great start midway through the first quarter when they went on a 17-0 run.  The Skyhawks followed that with a few small runs that helped increase UTM's lead to 25 points at halftime.
Murray State could not make up the difference in the second half and UTM cruised to a big 92-62 win.
Five Skyhawks finished with double-digit points, including Haley Howard and Myah Taylor, who led the team with 21 points.  Katie Schubert finished with 14 points, Jessy Ward tallied 10 points and Emanye Robertson scored a career high 12 points.  Ke'Shunan James was Murray State's leading scorer with 14 points and 13 rebounds.  She was followed by Kyra Gulledge, who finished with 12 points and 12 rebounds.
The Skyhawk offense had one of their better shooting performances of the season.  They shot 52 percent overall (36-68) and 42 percent from 3-point range (14-33).  UTM was also perfect from the free throw line, hitting 6-6.
The defense was also big factor in the Skyhawk's win.  UTM forced 26 Racer turnovers and stole the ball 11 times.
Meanwhile, the Racers struggled on both sided of the ball, especially the offense.  Murray State finished the game shooting 36 percent overall (21-57), 29 percent from 3-point range (10-34) and 62 percent from the free throw line (10-16).  Murray State did, however, out rebound the Skyhawks 38-32.
UTM head coach Kevin McMillan was pleased with the win, but said there are several things his team needs to work on.
"We're trying to reinvent ourselves, and that's hard to do this late in the season," said McMillan.  "We know we can press, we know we play pretty good man defense, we know we got a 1-3-1, but we need something else, and we need to get a lot better at execuiting so that if we're not doing one thing right, we can switch to something else."
"We've got some issues that we've got to overcome with this seven [players].  So far they're picking it up, but i just hope the season doesn't run out…If we keep moving forward then i think we can make some noise come March."
The Skyhawks return to action on Wednesday, Feb. 3 when they take on Austin Peay.  Tipoff between the Skyhawks and the Governors is scheduled for 6 p.m. from the Elam Center.
Photo Credit: UTM Sports Information