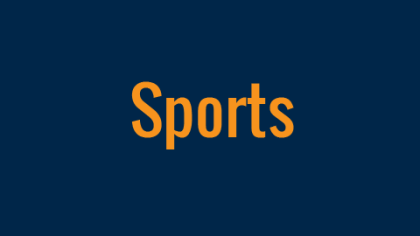 The Skyhawk football team picked up an 84-6 win over NAIA Bacone College Saturday on a historic day for both the university and the athletic department.
Before the football game, the university held a ribbon cutting ceremony for its new, six million-dollar stadium renovation project, including the new four-story structure which houses the visiting team and official's locker rooms, a new concession stand, academic classrooms, a new media level and the new Skyhawk club level.
"To see everybody get to see [the new facility] for the first time was real neat," said UTM head coach Jason Simpson.  "I can't wait to get all the markings and branding up. It just makes it different, the players can tell you what they think, but it just sounds and looks different in the stadium."
The new building is the first major renovation to Hardy M. Graham Stadium since the addition of artificial field turf prior to the 2008 football season.
The Skyhawk football team also had a historic day on the football field, scoring 84 points, the third-highest score by a UTM football team in school history.
Both teams opened the game by marching down the field on their first drives and scoring touchdowns.  However, UTM never slowed down offensively, and defensively shut out the Warriors.  The Skyhawks scored 56 unanswered points in the first half and cruised to a 63-6 halftime lead.
During the halftime break, both coaches agreed to play the second half in two 10-minute quarters.  UTM tallied three more touchdowns in the second half and cruised to an 84-6 win over Bacone College.
Skyhawk quarterback Troy Cook led the UTM passing attack, completing 10 of his 12 passes for 167 yards and four touchdowns.  Ty Brown and Jaimiee Bowe led the rushing attack, both combining for 80 yards and four touchdowns.  Kyle Kerrick was the leading receiver, recording two receptions for 53 yards and a touchdown.
UTM will now turn their attention to Ohio Valley Conference foe Tennessee Tech.  Kickoff between the Skyhawks and the Golden Eagles is scheduled for 2 p.m. Saturday, Sept. 24 at Graham Stadium.
"The first part of the season is over and now we shift our focus to conference play," said Simpson. "Our guys have been so much. Today was a sigh of relief to finally win our first contest and get the past six weeks of frustration behind us. We had the win going away today and now we've got nine weeks of OVC football, just grinding it out. Luckily we're at home next week so we've got a great opportunity to get off to a 1-0 start in the league."