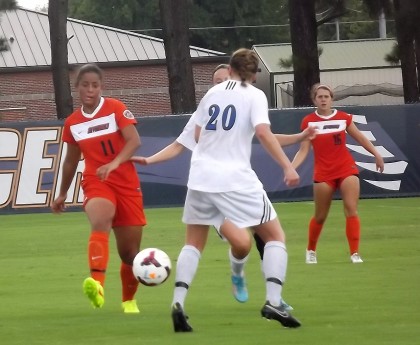 The UTM women's soccer team remains undefeated as they defeated the Indiana State Sycamores 3-0.
This marks the first time the Skyhawks (3-0) have won their first three games in program history.
The Skyhawks had a total of 38 shot attempts while holding Indiana State to only 15 shots.
The Skyhawks tallied their first goal at the 27th minute when Ashlie Watson scored off assists by Olivia Bohlman and Rianna Jarrett. Ellie Myrick scored in the 28th minute off an assist by Jarrett and it remained 2-0 until halftime.
The Skyhawks only scored once in the second half when Jarrett, who already had two assists, took a pass from Dominika Conc and scored at the 60th minute. That goal gave the Skyhawks the 3-0 win over the Sycamores.
UTM's goalkeeper Mariah Klenke tallied four saves and picked up her 17th career shutout and her 36th career victory.
The Skyhawks will return to action at Skyhawk Field at 6 p.m. Wednesday Sept. 3, when they take on the Evansville Purple Aces.
Featured Photo Credit: (Jared Peckenpaugh)