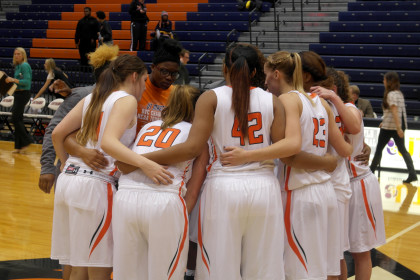 Forward Ashia Jones recorded a career high of 29 points for the Skyhawks despite their season opening loss to Southern Illinois.
UTM (0-1) had trouble on the glass for most of the game.  The Salukis's (1-0) recorded 43 rebounds in the game while only holding the Skyhawks to 27 total rebounds.
"They just killed us on the glass, and [Southern Illinois's] two guards did whatever they felt like doing," said UTM head coach Kevin McMillan.  "We just couldn't string together effort plays to get anything done."
UTM won the tip and jumped out to an early 14-8 lead in the first five minutes of the game.  Mississippi State transfer Jessy Ward tallied eight points including two 3-pointers in the opening minutes of the game.
SIU started a slow, steady run that helped them climb back into the game and eventually took the lead halfway through the first period.  However, another run, this time by the Skyhawks, lifted them over SIU and helped them coast to a 47-44 halftime lead.
SIU jumped out to a 9-2 run to start the second half and regain their lead.  SIU would then slowly pull away from the Skyhawks, taking advantage of offensive rebounds and scoring 11 second chance points in the second half.
The Salukis built an 11 point lead, the largest in the game, with a minute and a half remaining in the game.  The Skyhawks tried to put together a run that would get them back into the game, but were stopped short and dropped their season opener to SIU, 87-78.
Ashia Jones lead the Skyhawks on both sides of the ball, recording her sixth career double-double (29 points and 11 rebounds).  It's also her eighteenth career game with over 20 points.
Jessy Ward also tallied 19 points including three 3-pointers.
The Salukis were lead by their point guard Rishonda Napier, who had 20 points, five rebounds and four assists.
Both teams were even in the shooting categories with each averaging almost 50 percent from the field and 40 percent from 3-point range.  However, SIU took advantage of rebounds, second chance points (18) and points coming off of the bench (22).