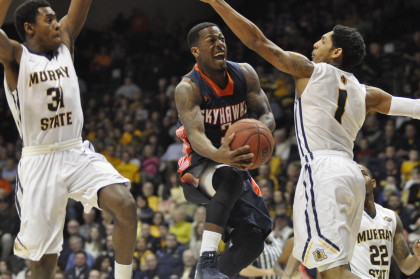 The UT Martin men's basketball team dropped a heartbreaker to the Murray State Racers, 65-62.
Murray State was coming into the matchup with a perfect 8-0 record in Ohio Valley Conference play and a 16 game winning-streak.  The Skyhawks were coming in off their biggest OVC victory of the season, an 81-51 win at home over Eastern Illinois.
UTM jumped out to an early lead after having success with the 3-pointer.  Both teams would grind it out in the paint before Murray State found success hitting 3-pointers themselves.  The Racers rallied and took the lead midway through the first half. Murray State was able to hold of UTM until halftime, where they took an 11 point lead into the locker room.
The Skyhawks opened the second half with a few runs that eventually closed the gap.  Despite Murray State controlling the lead for a majority of the second half, the Skyhawks played close and didn't allow Murray to pull away.
In the closing minute of the game, the Skyhawks had many opportunities to tie or take the lead.  A Murray State turnover gave UTM the ball down one point with 32 second remaining.  UTM senior guard Deville Smith then attempted a layup with 4 seconds remaining, but was blocked by preseason OVC player-of-the-year Cameron Payne.  UTM's Twymond Howard fouled Payne on the rebound attempt and sent him to the free-throw line to shoot two shots.  Payne made both free throws and a UTM half-court attempt was no good, giving Murray State the 65-62 win.
Smith led the Skyhawks in the scoring column with 20 points.  Marshun Newell (18 points) and Howard (13 points) followed behind him.  Murray State was led by guard T.J. Sapp (20 points) and Payne (16 points).
Both teams were fairly even shooting the ball, with UTM shooting 42 percent, Murray State shooting 41 percent and both teams shooting 33 percent from 3-point range.  Murray State outrebounded the Skyhawks 38-33 and led the assist battle 15-5.
After the game, UTM head coach Heath Schroyer had this to say about his opponent and his team's performance.
"[Murray State] is very good, they made some good adjustments," said Schroyer.  "I thought we did a good job and made some real adjustments.  When there's two good teams in college basketball, it really comes down to one possession or two.
"I love this team, they play hard and bring it every day in practice. It's just a bunch of 9-to-5 guys."
The Skyhawks' next game will be Thursday, Feb. 5 when they travel to take on Austin Peay.  Tipoff between the Skyhawks and the Governors is scheduled for 7:30 p.m.
Photo Credit: UTM Sports Information