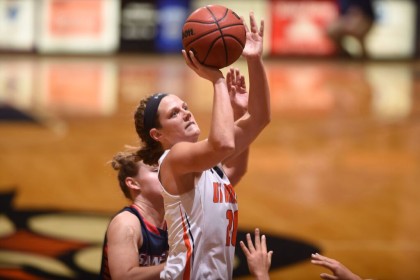 Despite the Skyhawks struggles shooting the ball, they managed to steal a win away from the Samford Bulldogs 52-50.
The UTM women's basketball team (4-4) came into this game after one of their better shooting performances, hitting 50 percent of their shots and 45 percent from 3-point range in their 83-65 win over Alabama.  UTM welcomed another team from the state of Alabama and former OVC foe, Samford (6-3), who came into this game after a 54-30 win over Alabama A&M.
UTM opened the game with a 13-6 lead halfway through the first quarter, but 3 turnovers and a 6-0 run by Samford saw the Bulldogs cut the lead to one with less than a minute remaining.  A Haley Howard jumper and free-throw gave UTM a 16-12 lead at the end of the first quarter.
Both teams struggled shooting the ball at the start of the second quarter, but later UTM managed to jump out to a 10 point lead, their largest lead in the gameplay with less than two minutes remaining.  A Samford 3-pointer cut UTM's lead down to seven and the scored stayed for the remainder of the first half.  UTM led at halftime, 30-23.
In the third quarter, both teams struggled shooting the ball, especially UTM.  Samford went on an 11-0 run that gave them a 34-30 lead halfway through the third quarter, but the scoring would cease for the Bulldogs for the remainder for the third quarter  The Skyhawks did not score once in the third quarter until the 41 second mark when Haley Howard hit a 3-pointer and was fouled, sending her to the free-throw line where she completed the four-point play.  A Daijia Ruffin layup at the buzzer gave the Skyhawks a two point lead heading into the fourth quarter.
For the first half of the fourth quarter, UTM managed to hang on to their slim lead, but an 8-0 run by Samford erased that lead and gave the Bulldogs a 2 point lead.  A 3-pointer and a basket by Ruffin on back-to-back offensive plays gave UTM a three point lead with less than a minute remaining.
But with eight seconds remaining Samford sophomore guard Kassidy Blevins hit a key 3-pointer, tying the game at 50 apiece.  With a chance to win the game, UTM's Ruffin took the basketball and while attempting a layup, was fouled, sending her to the free-throw line to shoot two shots with .4 seconds remaining.  Ruffin hit both of her free-throws, giving the Skyhawks a two point lead.  Samford wasn't able to get a shot off in time, so UTM held on to win 52-50.
Howard was the leading scorer for UTM, notching 16 points and six rebounds.  Ruffins followed her with 14 points and eight rebounds of her own.  Samford was led by Destiney Elliot, who finished with 13 points and 18 rebounds.
UTM finished the game shooting 37.3 percent (19-51), their worst shooting performance since the Illinois game earlier this year (37 percent).  UTM also managed to shoot 25 percent from 3-point range (7-28), and was a perfect 7-7 from the free-throw line.  Samford's shooting statistics weren't much better than the Skyhawks.  They finished the game shooting 36 percent (20-55), 30.8 percent from 3-point range (8-26) and shot 2-4 from the free-throw line.  Samford did out rebound UTM 37-31, but UTM only managed to commit 12 turnovers compared to Samford's 14.
"I thought that Samford out-played us effort-wise," said UTM head coach Kevin McMillan, whose Skyhawks improve to .500 this year.  "I think our kids are young and I don't know if we're ready to be a really good basketball team, but that was a good bunch that we just beat, we can take that away.  We figured out a way to win, but there are a lot of things that we can't do if we want to be good in March."
The Skyhawks will take a week off to focus on finals before returning to the hardwood Saturday, Dec. 12 when they travel to Evansville Indiana to take of the Evansville Purple Aces.  Tipoff is scheduled for Noon.
Photo credit: Sports Information