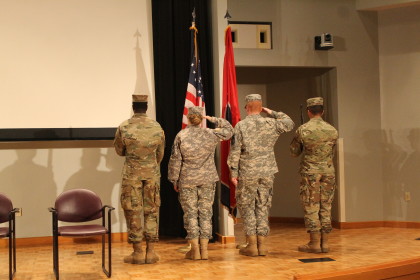 The UTM Skyhawk Veteran Association hosted a Veteran's Day Observance ceremony Friday at 3 p.m. in Watkins Auditorium.
Faculty, staff, students and the community gathered at the event to listen to servicemen tell their stories and show their appreciation.
One story in particular that was highlighted during the ceremony was that of U.S. Marine and 1999 UTM alumnus, Capt. Brent Morel. Morel was killed in action in the Al Anbar province of Iraq on April 7, 2004 after leading an attack on foot when his convoy was ambushed. He led his team though open fire across deserted land and crossed a berm to surprise the enemy and divert the attack. For this he was awarded the Navy Cross, and was featured in a History Channel special "Warfighers" that evening.
His father, Mike Morel, spoke at the event, calling his son an "All-American kid." He described Brent as an avid hunter and fisher who always knew how to make money.  In boot camp, he charged to iron the uniforms of other men. Morel was similarly known to love God and this country.
"He's like so many other men who put that uniform on," Morel's father said. "You write a check and it's cashable by your life and some people have to cash the check in because that's why were able to do what we do in this country."
History professor Dr. Daniel McDonough also shared histhoughts about his former student.  He taught several of Morel's classes, and was advisor of the history club of which Morel was a member. He remembered Morel as "very forward and not shy about his opinions."
"Brent was a leader, he always was," McDonough said. "From his time here at UTM he was clearly a leader, and he went into the Marine Corps and once again he was a leader there, and he was a leader until the time when, unfortunately, he lost his life in the Iraq war."
A plaque can be found in his honor in University Center room 232, which serves as the meeting space for the SVA, and a bust can be found in the library where he met his wife, Amy Morel.
More veteran speakers presented after the posting of the colors, Pledge of Allegiance and National Anthem sung by Darius Taylor, senior music education student. Dr. Jerald Ogg, provost and vice chancellor of Academic Affairs, followed with opening remarks.
Ogg detailed the recent financial acquisitions for veterans, including the Veteran Reconnect grant, which awarded $168,000 to create an orientation program for servicemen and women and hire a specialist to handle the needs of veteran students. Another grant of $5,000 was awarded from the UTM Women's Alliance.
"We want to be more than just a veteran friendly university," said Ogg. "We want to be a veteran-seeking university, and I think that these enhancements will allow us to do that and position us to do a better job of serving these brave men and women."
Robert Gertsch, a veteran and senior criminal justice major, gave insight about his own experiences, what it means to serve and why it is important to give recognition. He acknowledged the hardships that families go through, and the deep bond that is formed between those who serve together.
"As veterans we can only do what we have to do if we have strong support and without our dependents keeping us anchored, we can get lost," he said. "The bonds that we built last a lifetime because away from home, they are family and though you may not serve in the same branch, in the same conflict, it's a family that spans generations and we need to honor that."
Gertsch entered the Air Force in 1999, and later the Army from 2009 to 2015. He was awarded a Purple Heart for his actions in the Iraq War, and was injured along the Euphrates River, which he described as a "place of constant attack."
A picture was shown of Morel overseas standing in front of the river, to which the Alaska native reacted in surprise.
"I recognize that river in that picture," said Gertsch, who noted that the area was also two hours away from any response. "I crossed it many times. That river became a point that we could actually realize that this is where today we might have to answer the call. We might have to cash in our chips."
He is married to Angie Gertsch, Curriculum and Assessment administrative secretary and serves as the Public Relations Representative for the SVA.
Weakly County Commissioner Roger VanCleave is also a veteran Marine and served during both the Vietnam and Korean Wars. He recalled returning home to Martin once and getting off the bus at 9 p.m. to see a passing Jeep make a U-turn to come back and ask him where he would like to go.  The Alpha Gamma Rho brothers then took him to what was Tony's Pizza for a cup of coffee and to make a phone call to his father.
"That shows you what kind of mentality that northwest Tennessee, Weakley County, and Martin, Tennessee and the University of Tennessee at Martin has for veterans and I am thankful for that," VanCleave said.
He addressed the veterans as the "elite of America" and "cream of the crop of the United States." He talked about being molded mentally and physically into a unit and learning to work together.
"It transformed us into working as one," VanCleave said. "The result of this is you know how to be followers. You will never have the ability to lead until you have the know-how to follow."
In his closing remarks, Tim McClain, SVA President, addressed the future of his organization.
"My vision is that the SVA be the gold standard on campus and in the community, an organization dedicated to helping veterans and their family here and in the surrounding area," said the military veteran and social work major. "So where do we want to take the SVA? My ultimate answer is wherever our veterans need us to."
This is the fourth annual Veteran's Day event hosted by the SVA. Dr. Alice-Catherine Carls, professor of history and philosophy and the faculty advisor for SVA, called this year's event "outstanding."
Feature photo: Members of the UT Martin ROTC color guard post the colors. (Pacer Photo/Sarah Knapp)