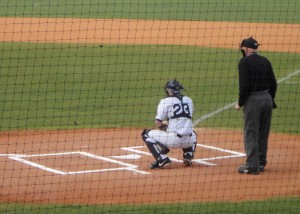 In a game full of mistakes, the Skyhawks (8-21, 1-12 OVC) baseball team fell to Belmont (22-6, 9-1 OVC) in the first game of a three-game series 4-0.
"It was a game that could have gone either way," said UTM Head Coach Bubba Cates. "They had some good things happen to them at the right time."
The game was scoreless up until the top of the sixth inning when a mishandled ball by catcher Ben Brewer allowed Belmont infielder Judah Akers to make his way from third base to home, for the first run of the game.
Belmont would turn around and add three more runs in the top of the seventh, putting them out to a 4-0.
The Skyhawks needed to make something happen fast.
Outfielder Grant Glasser sent the ball barreling past third base, which brought him to second and Brewer to third. There was slight hesitation by Brewer on whether or not he should try to make it home for the Skyhawks first run, so he stayed at third. On the next play, outfielder Byron Johann's hit was fielded, and Brewer was tagged out at home taking the game to the eighth inning with UTM still scoreless.
"We didn't take advantage of some things we know we have to," Cates said.
"I think our guys have a lot of fight in them, but one thing I've noticed about them is they have to fight back. Sometimes you gotta' throw the first punch. I kept talking to them as the game was going on [at] 0-0, saying, 'Don't let them score first.' Because a lot of times, we start scrapping when they score and … you have to throw the first punch sometimes. We had a chance to do that in the first inning, and we didn't get that done."
One of the bright spots for the Skyhawks in the game was pitcher Dan Tobik, who had five strikeouts.
With bases loaded in the top of the second, he was able to get his team to the bottom of the inning without giving up a single run, avoiding a near early mishap.
Game two will played Saturday April 6, at 3 p.m., with game three on Sunday April 7, at 1 p.m. To keep up with the game, follow The Pacer on Facebook and @ThePacer on Twitter.