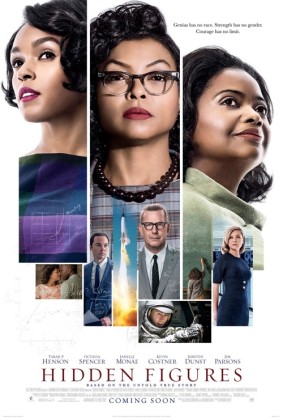 As March draws to a close, so does the annual programming for Women's History Month on the campus of UTM.
On Thursday, March 30, 2017, the Women's Center will be hosting a special showing of the Academy Award winning film Hidden Figures, as a part of the celebration of women involved in STEM (Science, Technology, Engineering and Math).
Hidden Figures is a biographical drama which was first released in late 2016, and is based on the novel by Margot Lee Shetterly.  The film documents the work of African–American female scientists employed by NASA during the Space Race, the 18-year struggle between the U.S. and the U.S.S.R. spanning from 1957–1975.
The main cast is comprised of many familiar faces, with Taraji P. Henson leading the bill by playing the part of 2015 Presidential Medal of Freedom recipient Dr. Katherine Johnson. Set in the still-segregated Virginia, Katherine (then) Goble works as a "computer" at West Area Computers, and the film addresses her climb a corporate ladder that was hostile toward her at every rung.
Johnson is a mathematician and physicist, and was employed for over 30 years by NASA to perform calculations for celestial navigation for defining missions in NASA history. With her work in trajectories, Johnson took part in the successful planning of the 1969 Apollo 11 moon landing.
In 2016, the National Science Board published its annual Science and Engineering Indicators Report, revealing that there are still large disparities between the percentage of men and women in STEM fields.
The UTM Women's Center, directed by Dr. Teresa Collard, has planned events for every Women's History Month since its opening in January 2011.
Hidden Figures will be shown at Watkins Auditorium on Thursday, March 30 at 7:00 p.m. The film is just over two hours, and is free to the public.
(Image Credit/foxmovies.com)