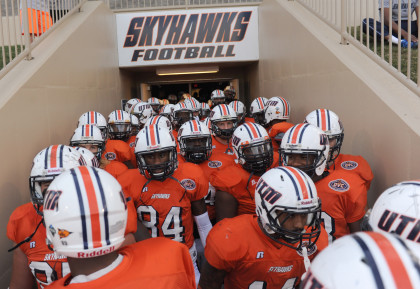 Coming off a 21-16 upset win over Tennessee State, the Skyhawks now turn their attention to Austin Peay as they host the Governors for Homecoming.
"It was a great team win and very satisfying," said UTM head coach Jason Simpson in his weekly press conference.  "We're able to get back this week, get another conference opponent for Homecoming…we're certainly excited about that."
The Skyhawks' previous wins over Tennessee State and Tennessee Tech puts them in the driver's seat to claim their third Sgt. York Trophy since the award's creation in 2007.  The Skyhawks were the solo winners in 2010 and shared the trophy with Tennessee State in 2012.  With a win over Austin Peay, the Skyhawks will be able to bring the trophy back to Martin.
The Governors (1-6, 1-2 OVC) are also coming off a huge win Saturday night when they defeated the Murray State Racers 20-13, snapping their 18 game losing streak which was the longest in the FCS.  Austin Peay finished the contest with 349 yards of total offense.
"They had a big win over Murray," said Simpson.  "They played well, they're 180 degrees in my opinion than they were last year."
The Governors are lead by freshman quarterback Mickey Macius, who threw for 201 yards and three touchdowns, all to wide receiver Jared Beard.  Macius was also named Adidas Ohio Valley Conference Co-Newcomer of the Week.  Coach Simpson mentioned that he was very impressed with Macius performance.
"Solid player, threw for three touchdown passes this week.  [Macius] runs their offense very similar to Jarod Neal, especially at that point in his career."
Austin Peay averages 232 yards of total offense per game and has scored nine touchdowns this season, which ranks last in the OVC.  The Governors also give up an average of about 458 yards on defense, eighth in the OVC.  Despite scoring 20 and 21 points over the last two weeks, the Governors have either been shutout (twice) or scored one touchdown (three times).
Coach Simpson also mentioned in his press conference that despite the early season stats, he was impressed with Austin Peay's performance over Murray State and is not over looking the Governors.
Kickoff between the Skyhawks and the Governors is scheduled for 2 p.m. at Graham Stadium with Senior Day and Homecoming festivities scheduled before.