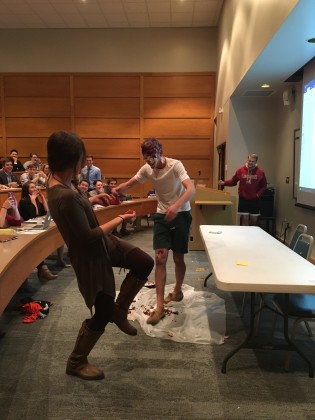 The Student Government Association held its fourth Senate meeting of the semester on Thursday, Oct. 13 at 9 p.m.
While the executive council members thanked senators and members for their participation in the homecoming can collection, President Josh Diltz awaited his fate . In the previous senate meeting, it was announced that if freshman council collected more canned food items than the rest of the senate, their president would be safe from a pie-ing. Since the freshman council did collect more cans, this also meant that they got to watch as Diltz caught a blueberry pie right in the face.
Committee reports are updates on the progress of each individual committee and their previous meeting. At this senate, reports included an announcement from the academic affairs committee chairman concerning their continuation of efforts on transfer tables, and communications announced their want for a "Senator Spotlight," to be featured on their Instagram page. Multicultural affairs referenced the resolution that was passed later in the night and student affairs released an update on the working towards a "puppy day," for finals.
During new business, Daniel Jones was appointed as a senator for the college of Business and Global Affairs and Ashley Taylor was appointed as a senator to the college of Health, Education and Behavioral Sciences.
The senate also voted to approve a resolution that expresses the feelings of the UTM SGA senate on reducing the amount of food waste at UTM through the implementation of campus wide composting procedures. This resolution was sponsored by Multicultural Affair Committee Chairman, Nathan Daniels.
The meeting was adjourned at 9:33 p.m.
Every student is a member of SGA and is encouraged to attend senate meetings. The next senate meeting is scheduled for October 27 in the University Center's Legislative Chamber, Room 111. Questions can be directed to student body president, Joshua Diltz at josmdilt@ut.utm.edu.
SGA President Joshua Diltz receives a pie to the face after freshmen council collects more cans during homecoming. Photo credit: Rachel Moore