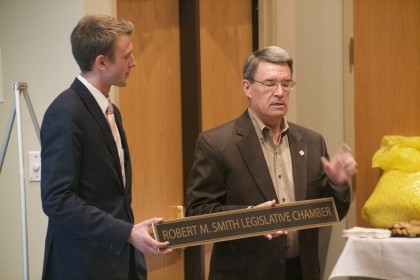 The Student Government Association held its final senate meeting of the semester on Thursday, Dec. 2 at 9 p.m.
SGA's Legislative Council worked with faculty sponsor, John Abel, as well as incoming chancellor Dr. Keith Carver to honor Interim Chancellor Dr. Robert Smith for his work and coordination with the 64th and 65th General Assemblies. To honor him, the Council issued an executive order to name the legislative chamber after Smith in honor of his legacy.
Former SGA president Rachael Wolters sent a personal letter of thanks expressing her gratitude to Smith for all he taught her while she attended UTM. This letter was read during the proceeding as the honorary "plaque" was given to Smith. The official plaque to be hung above the door outside of the chambers will be ordered once the Board of Trustees approves the name change.
In addition to the executive order about renaming the chambers, two other senate bills were passed during the meeting. These bills were introduced at the last senate meeting. Since they are constitutional revisions, they are required to be tabled until the next senate meeting.
The first bill which passed was Senate Bill 6501, an act to mandate legislative council meetings. This bill was passed with little debate and was introduced by Breydon Horton, procedures chairperson. The second bill to carry was Senate Bill 6502, an act allowing satellite campuses of UT Martin (Ripley, Parsons, Jackson, Somerville and Selmer) to each have one voting senator, regardless of major, to represent their center's interests in the senate. SB 6502 was also introduced by Horton.
Senate resolutions 6506 and 6507 carried during the meeting. The first came under much dissent from Humanities and Fine Arts Senator Doug Marshall as it resolved to increase the SGA Travel Study Grant. Though the resolution passed and ultimately with the senator's approval, Marshall was a strong advocate for the addition of an amendment requiring professors offering travel studies to advertise more so the increase in fee did not lead to a stagnation of the use of the scholarship. Ultimately the legislation passed, being one of the final legacies of Multicultural Affairs chair Nathan Daniels before his resignation and graduation.
Resolution 6507 passed unanimously with no dissension in the senate. The bill resolves to prioritize the establishment of a multicultural affairs center. This resolution was also introduced by Daniels, and its planning and implementation will be passed down to the upcoming multicultural affairs committee chair person.
Daniels officially tendered his resignation from his position during the senate meeting. In the interim before the position can be filled all committee members will serve as chair. Krista Hazlett, senator for the College of Health, Education and Behavioral Sciences, also resigned due to upcoming graduation. Both seniors graduate in December.
A presentation was given by Chief of Staff Jordan Long to update senators on changes being discussed through the Department of Safety. These changes are not voted on by senate, nor under the control of SGA. There is currently discussion occurring regarding an increase in parking tags to make up for a deficit in the public safety department. Long also reported that there are currently plenty of parking spots available in commuter, non-commuter and undesignated lots.
Chief Justice Shelly Pate presented a constitution revision packet which relates to the correction of several grammar discrepancies in the current SGA constitution. The packet was tabled, and a vote will be held at the next senate meeting in January.
This was the first senate meeting attended by incoming chancellor Dr. Keith Carver. Carver was present via webcam during the meeting. Carver later tweeted that he looks forward to his participation in many more SGA senate meetings as chancellor.
Every student is a member of SGA and is encouraged to attend senate meetings. The first senate meeting of next semester is scheduled for Jan. 26 in the University Center's Legislative Chamber, Room 111. Questions can be directed to student body president, Joshua Diltz at josmdilt@ut.utm.edu.
Feature photo: SGA President Josh Diltz (left) presents interim-chancellor Dr. Robert Smith with an honorary plaque for the renaming of the legislative chamber. (Pacer Photo/Rachel Moore)