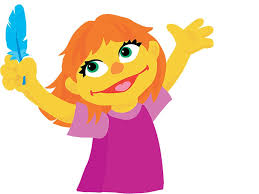 A new character has joined the Sesame Street neighborhood and her name is Julia.
Julia has Autism Spectrum Disorder and was developed by the Sesame Workshop as part of their initiative, See Amazing in All Children. The goal of the program is to foster awareness of the disorder while teaching acceptance among children.
"I think it's a good thing, especially with me being in education," said mother and University of Tennessee at Martin student, Natalie McCulloch. "It's nice to show kids that not everybody's the same. Most kids watch cartoons so I think it's good exposure."
Julia made her debut in the form of a digital storybook called "We're Amazing 1­2­3". In the story, she and Elmo are playing on the playground when another of Elmo's friends, Abby Cadabby, comes along. Elmo explains to Abby how his friend "does things differently" as they all play together throughout the day.
As the story unfolds, the bright eyed muppet exhibits some of the characteristic behavior of a child with autism: she flaps her arms, is sensitive to noise, avoids eye contact, and has trouble communicating.
However, there are a wide variety of symptoms and the Centers for Disease Control and Prevention has reported that 1 in 68 children have been diagnosed with ASD. "Autism is a neurodevelopmental disorder characterized by problems in three areas: social communication, language deficits, and something that we call stereotypical and repetitive behavior or restricted interests," said Martin professor of psychology, Denise Connell.
According to Connell, who teaches a course about autism in the Spring and works as a consultant with autistic children outside of UTM, diagnosed kids are bullied at a rate five times that of other children. "Primarily we're talking about kids on the high end of the autism spectrum," said the teacher of 13 years. "That's because a lot times, they have social communication delays where they have poor empathy skills or say things that offends others without meaning to offend them."
As part of the outreach program, Sesame Street also provides a vast amount of resources concerning autism on their website, autism.sesamestreet.org. The page contains many educational videos spotlighting the lives of autistic children and their families as they carry on day to day activities as well as parental advice. It also has printable daily routine cards which cover topics like crossing the street and washing your hands.
Additionally, the organization is encouraging the community to share its story on social media with #SeeAmazing.
(Photo Credit/pbs.org)