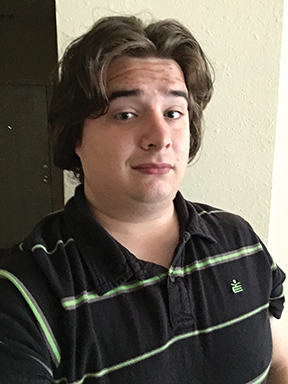 Over the last couple of years, we've seen just how much good a free press can do for a country. By the same token, however, we've also seen just how much harm it can do as well.
I'm not saying this to accuse the general public of ignorance, or to lament the fall of the responsible free press; that's been done far too often, by far more verbose and organized writers than I. Instead, I want to take this final piece to convince you, the reader, that true journalism is not yet dead and buried.
My proof? You're looking at it right now.
Over the past four years, I've had the privilege of working with some of the finest men and women I've ever met here at The Pacer. People from all sorts of different backgrounds and belief systems and values have come together to bring the students, faculty and staff of UTM the unfiltered truth for close to a hundred years now; I take my place in that storied tradition with nothing but the utmost pride.
On a daily basis, we do everything we can to report what happens in and around campus. From SGA to sports to SACS accreditation, we've done our best to ensure that our readers can be an informed public. It's never been easy, and we've come under fire when we make missteps. Sometimes the outcry has been justified, other times not so much. However, it's always been our number one priority to seek the truth and report it.
I've only been Executive Editor a relatively short time, but through my experiences here, I've learned real-world skills, such as self-editing, taking initiative and collaboration, which will be of infinite use to me later in life. I'm sure the rest of our Editorial Board would say the same if they were asked. Our work has benefited us just as much as it's benefited the campus, if not more so. We've always approached our work at The Pacer as though it were the most important thing in the world to us, and we hope that has been reflected in our reporting over the past academic year.
It's been a unique experience working with this newspaper. Its influence on my life has been profound, and I know that it will always be a period of my life which I look back on with pride.
I'd like to take a moment to thank everyone who's helped me along the path. First and foremost, Tomi Parrish, our faculty advisor, who's been like a second mother to all of us, and without whom we'd just be a bunch of misguided young adults. Ashley Marshall, who helped me realize what it takes to be the best I can be, and pushed me to take the next step. Bradley Stringfield, who took me under his wing during my freshman year, and helped me figure out what I was doing. Tim Hacker, who helped me hone my writing ability and showed me the value of thinking things through. Mom and Dad, who at this point are probably just glad I haven't burned out and become a business major. And finally, everyone I've met who I haven't named here who's been influential in my life in some way or another. I promise, even if I can't remember your names, I'm grateful to all of you.
I'd also like to thank every member of the Editorial Board, past, present and future, for their unwavering dedication to the integrity of our publication. I've worked with several of them for the majority of my time here, and I know that The Pacer will be in good hands once I'm gone.
But most of all, I'd like to thank you, the reader, for your continued support. No newspaper is truly complete without its audience, and it is my hope that The Pacer will continue to serve UTM and the city of Martin for many years to come, whether through print or internet or whatever medium may appear next.
Ezra Pound put it best when he wrote: "O God … install me in any profession save this damn'd profession of writing, where one needs one's brains all the time." This experience has certainly been one of expanding my global consciousness, and I hope it continues to do the same for many others after me.