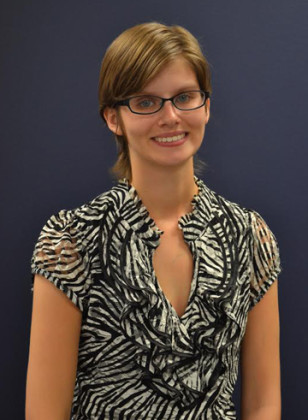 I remember crying myself to sleep my first night at UTM. The bed was too small, the sheets too scratchy, the room too cold and my heart too lonely.
'This is what you wanted,' I reminded myself. 'This was your decision.'
I missed my family already, and was incredibly nervous to start my life in "the real world," away from the protection of my home and the stability of my parents. However, I was determined to get through it anyway, to go to class on my first day and make new friends and learn new things. I wanted to make my mark on this quaint campus, and looking back almost four years later, it seems that, in some ways, it changed me at the same time.
My journey through college definitely wasn't easy. My mom was diagnosed with a brain tumor, my grandpa and great-grandma passed away within six months of each other, I was diagnosed with Scoliosis and Degenerative Disc Disease, two male students cornered me with not-so-good intentions, I had some really serious gastroenterology issues and the list goes on.
However, the amazing things that changed my life outweigh the bad. I accepted Jesus Christ into my life and now have a real, growing relationship with Him. I met an amazing man that is now my fiancé. My sister had a sweet baby boy. I met amazing friends and professors that I will never forget. I was the first freshman to ever get an internship at Nashville Arts Magazine. Perhaps the one happy event that sums all this up and more is that, in just a few short days, I am putting on a black cap and gown, with a gold cord draped proudly around it, and walking across a stage to receive my hard-earned diploma.
That diploma that will soon be proudly framed and hung is a Bachelor of Arts in English, Creative Writing Concentration, with a Communications minor.
I grew up writing instead of playing and dreaming instead of sleeping. Majoring in English seemed like an obvious choice to me—is there really anywhere else I would fit in? My gut told me no. Then, after switching minors three times, I finally found my place in the Communications department.
So many individuals have shaped my experience during my time at UTM that I could not possibly thank everyone who has affected me. I will never forget these people and the things they have done for me, from the small things, like Dr. Charles Bradshaw's unwavering patience for constantly having to explain the difference between active and passive voice to me, to the big things, like Dr. Melvin Hill's continuous advice and mentorship that has helped me create the best college experience and future career plans.
Without the help of faculty, staff, family and friends, I would not be where I am today. Therefore, my biggest advice to current and future students is this: make connections. Form relationships with your faculty and peers, because they will become your support system when you need it most. Don't forget to call home either, since they were there for you before college and will continue to be there afterwards.
Before I came to college, someone once told me, "You will never look back at college and wish you would have gotten more sleep." I did not really understand this at the time, but looking back now, it makes perfect sense. When you are pulling an all-nighter to finish a paper or staying out late to drink coffee and socialize, you may regret it the next morning. You may think that you are not going to get through it, but I am here to tell you that you will. Not only will you see the other side of that paper or whatever keeps you awake, but you will look back at it and be happy that you put effort into your work and created memories that can last a lifetime.
All of the memories, and even assignments, from the past four years show a little part of me—my personality, my dreams. When I look back at my college experience, I see my journey through the phase of adulthood you go through as a college student. This article marks the end of that journey, and that leaves a bittersweet taste in my mouth.
The beds here are still too small and too scratchy, but now the memories of the campus I am leaving behind fills me with warmth and joy. I can already say as a fact that I will dearly miss my home away from home, and I will never forget the people who impacted my life during my stay here.