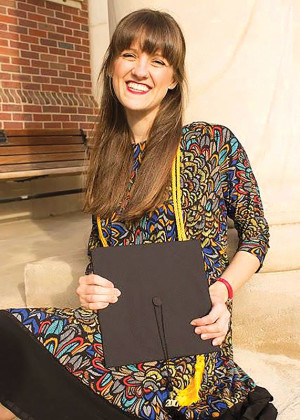 This is one of the most difficult articles I have ever had to write. I quite literally had to force myself to sit down and get it done. Here I sit at 10:40 a.m. on the day that it is due, staring at my computer.
It's hard for several different reasons. If I'm being completely honest with myself and the people that know me, I have trouble accepting change and that is all that seems to be happening lately. However, as Type-A as I am, some of the most unplanned and unforeseen things have turned out to be the most beautiful for me.
I could never have expected my time at UTM to be what it has been, stepping out of my sister's car on the day of my tour. I was in between schools and stuck in a mopey-rut as I watched all of my friends inch toward graduation and their future. I was more than ready to hit the books again even though I wasn't sure if a career in journalism was something I wanted. I remember being introduced to the writers and designers of The Pacer that day and as fate would have it, I would spend an almost un-Godly amount of time in that windowless room with people that would become my family.
When I got to UTM, I met some more great people that pushed me and shaped me in ways that I could never have imagined. I met faculty, staff members and peers who believed in me when I didn't believe in myself and made me want to work harder and be a better student and person.
To Tomi McCutchen, thank you for always being there for me. You have been my professor, boss, course adviser, mentor, friend and second mother from the beginning. You have helped me through so much and I'll never forget stumbling into your office on my very first day, needing to register for classes. To Andrew Brown, thank you for opening my eyes to public relations and for your unwavering support. Thanks also for the sage advice and for working with me through that independent study course. To Dr. Teresa Collard, thank you for making me feel welcome from the beginning and Dr. Robinson, thanks for letting me into Comm. 329 and for wearing those ties! To Chancellor Carver, thank you for being willing to help me for all the times that I bugged you.
To The Pacer staff, I couldn't be more honored to work with you. You are some of the most professional, talented and kind people that I know and I'm excited for your future, as well as the future of the paper. Thank you for letting me be part of the team.
To the people who I have met through interviews and the city of Martin, thank you for allowing me to tell your stories and to anyone that I waited on at Bartola's Bar and Grill, please know that I am sorry; I'm sure I messed up your order somehow. Thanks to my two gal-pals Alex Barnes and Katie Harper for getting me through it.
To the student body, thank you for letting me serve you as the Executive Editor. Though I have only been in this role for a semester, I am proud to have served you in all my positions through my time at The Pacer.
Lastly, I have to thank my family. I would be lost without them, especially my mother. Thank you for listening through all the tear-filled phone calls, for encouraging me and for being my best friend. To my Daddy, thanks for always knowing how to get me out of a jam, whether it be with my car or otherwise, and for showing me the importance of hard work. To Savannah, Aaron, RJ, Jessica, Jacob, Brandon and Marissa, thank you for being part of my rock.
To all of you and many more, thank you for caring. I am blessed to have met you and thank you God for bringing me to UTM. I never thought that this small campus would open so many doors for me and so greatly change me as a person.
So if you're ever unsure about what to do next and can't seem to sort through all of the possibilities, fling your arms wide, close your eyes and let Him lead you.
(Pacer Photo/Sarah Knapp)