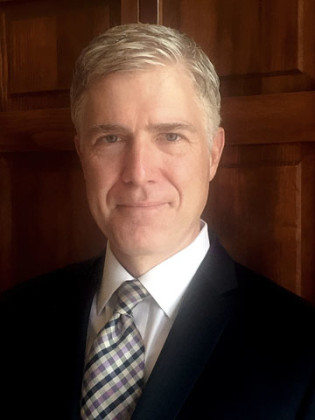 The Senate confirmed circuit court judge Neil Gorsuch as the 113th Supreme Court justice Friday morning, April 7. 
Lawmakers confirmed Gorsuch in a 54-45 vote, ending more than a year of bitter partisan disputes over the ideological balance of the Supreme Court. Vice President Mike Pence presided over the confirmation as president of the Senate. Gorsuch will be sworn in on Monday.
Only three Democrats sided with the GOP majority. These were Sens. Joe Manchin of West Virginia, Heidi Heitcamp of North Dakota, and Joe Donnelly of Indiana. Sen. Johnny Isakson, R-Ga., was not present for the vote as he is recuperating from back surgery.
Earlier in the week, Sen. Jeff Merkley, D-Ore., delivered a filibuster against Gorsuch that lasted longer than fifteen hours. The Democrats stated that Gorsuch would not remain independent from President Donald Trump.  On Thursday, April 6, Senate Republicans successfully utilized the "nuclear option" that effectively terminated the filibuster for Supreme Court nominees by senate Democrats.
 "Today, for the first time in history, the theft of a Supreme Court seat has been completed, profoundly damaging the integrity of the court,"  Merkley said on Friday following the Gorsuch confirmation.
Senate Minority Leader Chuck Schumer, D-N.Y., said after the confirmation that there is no incentive for nominees to speak to the minority anymore.
Gorsuch replaces Justice Antonin Scalia, who died unexpectedly in February 2016.  The nation's highest court has been operating with eight justices that eventually led to a prolonged fight over former President Barack Obama's nominee, Judge Merrick Garland.  There were 11 months remaining in Obama's term at the time.
Sen. Mitch McConnell, R-Ky., said that his chamber refused to take Garland's nomination into consideration during a lame duck presidency until following the November general election. Gorsuch's confirmation ended the longest Supreme Court vacancy since 1862 during the American Civil War. 
Gorsuch, 49, was the youngest Supreme Court nominee since former President George H.W. Bush nominated Clarence Thomas in 1991.  Thomas was 43 at the time.
Gorsuch joins fellow Supreme Court conservative justices Thomas, John Roberts, Samuel Alito and Anthony Kennedy.  Liberal justices on the high court include Ruth Bader Ginsburg, Stephen Breyer, Sonia Sotomayor and Elena Kagan.  Kennedy is considered the court's swing vote.
Gorsuch will be able to join in on the private conferences, where justices decide to choose new cases to hear, as soon as April 13.  According to the Associated Press, some of the cases could involve expanding gun rights to include carrying concealed firearms in public, voting rights and allowing business owners the right to refuse service to LGBTQ citizens on religious grounds.
On April 19, the court will hear a case in which a church argues that Missouri violated the U.S. Constitution's guarantee of religious liberties by denying the church funds for a playground project to improve playground safety due to a state ban on financial assistance to religious organizations.
In an issued statement, Trump referred to Gorsuch's confirmation as "one of the most transparent and accessible in history, and his judicial temperament, exceptional intellect, unparalleled integrity, and record of independence makes him the perfect choice to serve on the Nation's highest court."
Trump added that Gorsuch "will serve the American people with distinction as he continues to faithfully and vigorously defend our Constitution."
Gorsuch is a Denver-based judge who served on the U.S. Court of Appeals for the 10th Circuit. He is a graduate of Columbia University and Harvard Law School. 
(Photo Credit/Creative Commons)