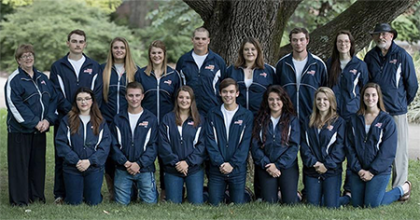 As of now, the UTM Rifle Team is three matches into their season with only 18 more to go.
Their most recent match on Sunday, Oct. 1 against the Murray State Racers resulted in a loss, but still set personal records for seven shooters. For air rifle, these were Brigitte Curcio, senior communications major from Stratford, Connecticut; Alex Tamboli, senior natural resources management major from Batesville, Mississippi; Celia Gelpey, freshman agriculture major from Danvers, Massachusetts; and Sean Phillips, freshman engineering major from Toms Brook, Virginia. Those for smallbore included Andre Delcalzo, a natural resources management junior from Bemus Point, New York; Jacob Osborne, a natural resources management freshman from Raymond, Massachusetts; and Phillips.
Other schools traveled to during their season, which begins in September and goes through February, include Jacksonville State University, North Georgia University, Morehead State University and more. Competitions occur almost every weekend.
Before the match, coaches decide which four shooters will be used as 'counters' and compete for the team. Counters are four of the team's top scoring shooters in each gun. Air rifle guns are .177 caliber and smallbore rifles are .22 caliber.
At the competition, air rifle shooters are given an hour and 15 minutes to shoot 60 shots at a distance of 33 ft. Small bore shooters are allowed one hour and 45 minutes for their 60 shots at 50 ft. away in three positions: standing, kneeling and prone (laying down).
"They have the ability to be the very best," said head coach, MJ Vowell. "It takes times and dedication and hard work and they can do it, and we're going to have a good year."
This is Vowell's first year as head coach, and she is being assisted by former head coach, Bob Beard. Vowell is a retired Lieutenant Colonel with over 20 years of service with the Army. She was a four-time member of the American team for the World Military Games and competed in Norway, Nigeria, Finland and Georgia at Fort Benning. She has an individual gold medal and a bronze team medal. After retiring from the Army, she served as a shooting instructor and helped start a non-profit organization, teaching women of Kentucky and Indiana how to shoot. She is also a UTM alumna and was a member of the rifle team when enrolled.
"I thought I could give back to the kids," Vowell said. "I got a lot from being here and then further on in the military."
Ashley Coots and Joe Martin are the team captains. Coots captains the women's team and is a senior accounting and finance student from Fairview, Tennessee. Martin is captain of the mixed team and a senior engineering student from Emerado, North Dakota. Last season he was named Honorable Mention Smallbore All-American.
Both captains are optimistic about the season and their ongoing improvement.
"I thought we did really well last year," Coots said. "We definitely improved a lot when it came to competing."
She also mentioned that they retained all of their counters this year.
However, though four freshmen students were added to the team, six seniors will leave at the season's end.
Both captains voted Morehead as their biggest match-up because of their close point scores in past standings.
"We shoot two matches against them back to back days, so that'll be a big weekend for us," Martin said.
Team members practice three days a week for two and a half hours and on their own, not exceeding 20 hours, using an electronic target system. The system is new to the team, which has been using paper targets. Microphones on the target are able to determine where the shot landed and it has the ability to stack shots to determine patterns.
"It's so much more accurate because on paper we have to score it ourselves," Curcio said.
The next competition is on Sunday, Oct. 8 at Ole Miss.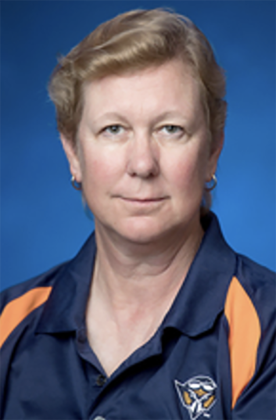 (Above: New head coach MJ Vowell. Very top photo: Head rifle coach Bob Beard is pictured with his wife, Mary Beard, and the 2016-2017 team.  Photo Credits/Sports Information)