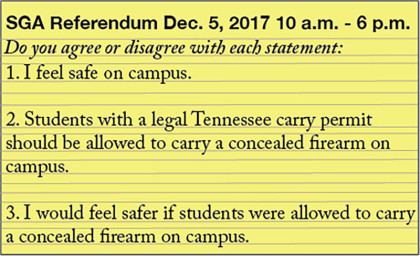 Students at UTM are being asked to consider whether or not they would like to have concealed carry for guns on campus. Two pieces of legislation to determine the opinion of the university will be voted on Dec. 7 during SGA senate.
SGA proposed legislation which was widely debated at their biweekly senate meeting on Nov. 2.
This legislation, Senate Resolution 1704 was sponsored by Alex Joyner (CBGA) with co-sponsors Jade Bleskey (CAAS), Preston Carter (CBGA), Annie Harris (CHFA), Dequad Jimmerson(CHFA), Casey Wiater (CBGA), Logan Rangel (CENS), Michael Samko (CAAS) and Clark Williams (CGBA). That is four senators from the college of Business and Global Affairs, two from Agriculture and Applied Sciences, two from Humanities and Fine Arts and one from Engineering and Natural Sciences.
S.R. 1704 has 11 sections to it; these sections serve to outline the rules that students would need to be followed if the resolution were to be approved. They are as follows:
Section 1: Every full-time and part-time student that has completed a concealed carry course, TBI fingerprint background check, and received a concealed carry permit, would have the option to lawfully carry on campus.
Section 2: Any students interested in carrying a concealed carry weapon on campus would be required to notify and file paperwork accordingly with the UT Martin Department of Public Safety.
Section 3: Students would face limitations as to where the concealed gun would be permitted to carry across campus.
Section 4: Valid permit holders could not bring a weapon into a stadium or gymnasium during school-sponsored events or in meetings regarding discipline.
Section 5: Students who have properly registered with public safety are permitted to carry in Academic buildings, University Center, residence halls and all other University buildings as long as it is in accordance to Section 4.
Section 6: If found carrying without proper authorization, a student would be eligible to receive disciplinary measures from the institution.
Section 7: Adding a designated symbol to the student's school ID would display the student's registration through public safety. Failure to meet this requirement will result in the same consequence as stated in Section 6.
Section 8: Concealed carry weapons would be limited to possess a normal clip size with a 15-round limit. No extended clip or silencers would be permitted on any of the concealed carry weapons.
Section 9: No larger caliber than 9mm shall be permitted. Acceptable calibers of 22, 380, and 9mm shall be permitted. (Not acceptable 45.)
Section 10: Defensive rounds only shall be permitted in cases of shooting a concealed carry weapon.
Section 11: This resolution will go into effect at the University of Tennessee at Martin main campus, Parson Center, Jackson Center, Somerville Center, Ripley Center and Selmer Center.
Many of these sections were highly debated at the first senate meeting, with several guests and senators saying that they would rather amendments be made before the time in which the vote was cast. These comments ultimately lead to the decision of the chambers to definitely table the voting of this legislation until after the referendum.
A referendum was called for amongst the entire population of the student body after Devin Majors and Doug Marshall were able to receive 310 signatures saying students wanted to vote their own opinion. A petition for referendum only requires 250 signatures, but they exceeded that number. The referendum does not allow students to vote on legislation, however the three questions that students will be asked relate to the legislation. These will be broad questions such as, "Do you support students with legal Tennessee concealed carry permits carrying on campus?"
Senators and students should all remember that this piece of legislation is only a resolution meaning it does not create action. A resolution just serves to represent the opinion of the student body because elected officials in SGA have taken an oath to vote the views of their electorate. Katlyn Griffis, junior communications major, argued that her senators were not going to vote her view, and that they were not listening to her. Her sentiment was shared by several other guests throughout the room.
Some students were concerned about the weight that this resolution could carry because even though Tennessee law has not legalized on-campus student carrying yet, it is being debated, and those senators believe that UTM saying they would support this legislation would carry weight in the debate of the legislature. This was articulated fairly clearly by Rikki Erwin, senior communications major from Brighton, who questioned the intent of sponsor Joyner during the first senate meeting.
All of the questions and concerns voiced by students were noted by Co-Sponsor Bleskey and she said she wanted to address those concerns and make sure that a new piece of legislation was available to students before the referendum on Dec. 5. For this reason, Bleskey presented a new resolution, SR 1708 to the Legislative Council on Wednesday, Nov. 8. Her co-sponsors for that bill include Joyner, Carter, Harris, Jimmerson, Wiater, Rangel, Samko, Williams and Clay Coury, Collin Revelle and Miller Prince. The latter three senators were sworn in to their positions at the senate meeting the previous week. That brings the college senator count up to four from CBGA, two from HFA, four from AAS, and one from ENS. The new sections include the above one through 11 with slight edits for clarity, and then the following sections have been added:
Section 5: The UT Martin Daycare Facility shall remain a gun-free zone.
Section 9: Students that carry concealed weapons shall not be permitted in the housing facilities of Browning, Ellington, and Cooper.
Section 10: While not on the student's body, the concealed weapon shall be stored in a fingerprint lockbox that is bought at the expense of the carrier. The weapon's ammunition shall be stored separately in the locked storage compartments that are provided in UV 1, UV 2, the Grove, and the Courts housing facilities. For students that live on campus and do not wish to purchase a fingerprint lockbox, they shall keep the weapon and its ammunition stored with public safety.
Section 14: Private training sessions shall be optional for students with their concealed carry weapons.
Both versions of legislation can be found online via https://orgsync.com/871/files/1291613
They are listed under their respective numbers which are S.R. 1704 and S.R. 1708.
After much debate during legislative council, which is not the intent of those meetings, this second resolution was assigned by Vice President Breydon Horton, to the Student Affairs Committee, chaired by Lora Moore.
Moore's committee met the following night and decided to postpone the resolution definitely until Dec. 6. At that time, they will vote on the bill and it will be sent to senate. This means that both pieces of legislation will be brought back up for voting at the senate meeting which will be held on Thursday, Dec. 7 at 9 p.m. in the legislative chambers.
Every student is a member of SGA and is encouraged to attend senate meetings. They occur every other Thursday in the University Center's Legislative Chamber, Room 111. Questions can be directed to student body president, Jordan Long at sga1@utm.edu.
(The Pacer received a copy of the questions that will be on the referendum in December. All students are encouraged to take the survey. | Pacer Graphic/Rachel Moore)