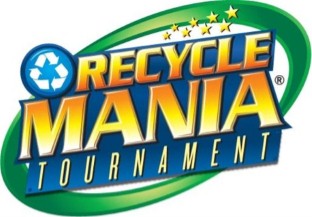 UTM is currently participating in a recycling event involving universities across North America as well as overseas in an attempt to promote better recycling habits.
UTM RecycleMania Tournament facilitators and organizers, Dr. Heidi Huse, associate professor of English, and Dr. Angelina MacKewn, associate professor of Psychology, hope to place among the top 25 universities this year in the annual recycling contest.
UTM has participated in RecycleMania since 2010, and has placed as high as 25th in 2013 with 57.29% and 2015 with 50.68% recycling per capita. 
"We can take pride in the fact that we do a good job of recycling on a daily basis and do well in this competition, even if we don't advertise it enough," Huse said.
The event began as a friendly competition between Ohio University and Miami University in 2001. RecycleMania has since continued as a way to encourage recycling and proper waste reduction among higher learning institutions. Though institutions from the United States and Canada are the primary competitors, global institutions are also invited to participate. There is no entrance or participation fee.
Weekly data from campus trash and recycling, calculated by weight and campus population, is categorized by competition. These include Diversion, the Per Capita Classic, Total Recycling, Waste Minimization, paper, bottles and cans, corrugated cardboard and food organics.  There are also one-time reporting categories which are GameDay Basketball, "E-cycleMania" and the "Race to Zero Waste" building competitions.
Schools that win any category get bragging rights and are able to keep a trophy made of recycled materials for a year.
The event spans over the course of eight weeks and ends April 1. Participating institutions are allowed a two week practice period to organize their effort and communicate with those involved.
During this time, MacKewn contacts Mike Davis, Recycle Center coordinator and Custodial Manager. Davis calculates the weight of the trash and recycling. Because the campus recycling center is also open to the community, he divides the raw numbers from these calculations by two.
"We're non-profit, so it's not about making money, it's the principle of doing the right thing," Davis said. "It's all about education. This trash is going somewhere."  
The facility accepts paper, cardboard, numbers one and two plastics, cans and some electronics. It is not currently collecting glass, however, due to lack of workers and transportation.
Huse and MacKewn encourage participants to rinse out their containers before recycling.
Both women are members of the faculty and staff group, UTM Recycles, which got UTM involved in RecycleMania in 2010.
"For every can that you pick up, you're going to save three hours of electricity as if you take a virgin material to make that can," said MacKewn, who grew up recycling on a farm in Canada and funded her undergraduate studies by collecting bottles and cans. "To me it makes mathematical sense, it makes financial sense, it makes environmental sense. Of all of the things we can talk about in terms of sustainability, recycling to me is just a no brainer."
To learn more about RecycleMania and check the rankings, visit http://recyclemaniacs.org/.
Image Credit| stonybrook.edu