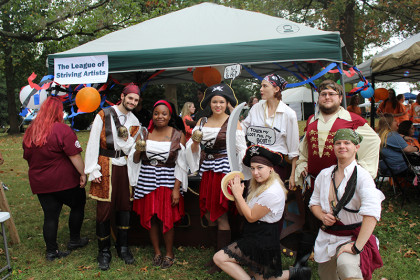 UTM hosted the 14th annual Quad City on Saturday, Oct. 7, 2017, with Captain of the Caribbean as the theme.
The Canned Sculpture contest is one of the annual homecoming events. This a chance for groups to receive donations of canned foods and use their best abilities to create a sculpture for a chance to be recognized as either the most creative or the best themed.
This year the League of Striving Artists was awarded most creative with their sculpture of a pixilated ship sailing toward a sun set.  They used 561 cans with 200 left over for donations. It took them about three to four hours to wrap and number cans the night before for their 15-minute set-up on the day of the contest.
The College of Health Education and Behavioral Science was awarded 'Best Themed' with their 3-D ship made from 3,000 cans.
This is only the start of festivities for the UTM community. Quad City started at 10:30 a.m. with student organizations, fraternities, sororities and reunion tents spread throughout the quad, all competing for a chance to win in their own individual contest.
The LSA and Office of Housing tied for first place in the student organization and department and college division. In the sorority division, Alpha Omicron Pi took second place and Chi Omega won first.  For the fraternity division, Pi Kappa Alpha took home second and Sigma Alpha Epsilon took home first.
Contest are not the only thing though Quad City had to offer. Many people enjoyed the chance to be a part of the UTM community.
Doug Marshall, a senior double majoring in Philosophy and English, said that his favorite thing about Quad City was the International Club's tent and the scavenger hunt.
"It's really nice to see alumni come back and support the UTM community," Marshall said. "Especially the ones that are closest to my age.  It's also great to see what everyone put together for their tent and for them to express themselves."
Danielle Harstin, freshman pre-veterinary studies student, was also excited to see the number of animals in attendance to Quad City.
"I really like to see all the people that came out… look, they have a horse," she said.
The day finished with the football game at 2 p.m. against the Murray State Racers, where UTM fell by a score of 10-13.
(The League of Striving Artists members pose in their pirate attire by their booth. Photo Credit/Katlyn Griffis)