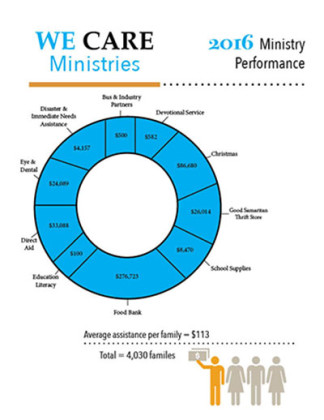 Betty Baker, Director at WE CARE Ministries, spoke to professor Andrew Brown's nonprofit public relations students Thursday, March 29, 2017, during a class visit to the organization's headquarters.
The Communications 399 students visited the local nonprofit to gain knowledge on how this organization is operated, who they serve and how they serve those people.
WE CARE Ministries is a nonprofit organization located in Martin, Tennessee.  They are able to assist the community by providing food for the hungry, assisting in budget counseling and helping with bills such as rent. WE CARE is also able to assist with eye and dental care and provide school supplies, as well as clothing and household items at a low price for others in the community.
The ministry serves anyone who needs their assistance for the first time and asks that you do 18 hours of volunteer work in their store. If you do this, then you are able to come and get help whenever you need it.
However, if you expect to get help without doing something in return, they are not able to help you after that first time. WE CARE strives to teach others responsibility while receiving help at the ministry.
Through their work in the community, WE CARE is able to provide spiritual support, encourage self-respect, instill hope, teach responsibility and make a lasting difference in the lives of others who need help and have come to WE CARE for their assistance.
Baker, who graduated with a BA in Interior Design and Architecture, began as a volunteer in 1988. In 1998, she took her current position that she still holds today. The ministry has grown since she began volunteering in 1988 and is considered a 501c3.
"We were faced with the decision as to whether or not we wanted to apply for government funding," said Baker.
Being government-funded would put a stop to the ministry being able to pray with others, provide Bibles and share the word of God.
"We decided to step out in faith and realize that God will provide" said Baker. "… and he did and still is providing"
WE CARE is not government-funded. They are able to provide Bibles to the people they serve, pray with them and host devotionals. The organization is able to provide so much hope for the community and those in need.
"I loved having the opportunity to tour WE CARE Ministries and learn what they were about and their values. Nonprofits are very close to my heart and the services that WE CARE provides and the impact it makes in the Martin community and surrounding areas is amazing. We are blessed to have such an incredible outlet of caring individuals, dedication and service so close to us as we do at WE CARE," said senior Jacey Bomar.
To find out more about WE CARE ministries, please visit www.wecareministries.net
The graphic details the spending of the non-profit organization and their care given per family. (Graphic Credit/Jacey Bomar)