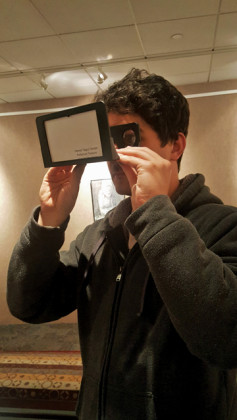 The first time Lane Last spoke in front of a crowd did not go so well.
Last was attending a film competition and was completely unaware he had secured second place in the contest until he got on stage and stared into the eyes of an auditorium waiting with bated breath. Last blanked immediately, and told the crowd about a dream he had the night before where they had his body secured to tubes. It did not go well.
Tuesday, April 11, 2017 was Last's second public speaking venture, and it bore no semblance to the scars of his memory. Instead, Last hosted an informative talk about art inspired by his 2014 visit to Japan using the Professor Exchange Program.
In Fall 2014, Last got the opportunity to participate in the Professor Exchange Program, and was placed in Hirosaki City, Japan.
When he returned from Japan, Last was excited to share his experience with other members of the Visual Arts staff, but then he realized that he had between 300 and 400 photographs to go through.
That's when inspiration struck.
Professor Last decided to use a "form that was more than just looking at a picture in a book," known as stereoscopic imaging. Developed in the first half of the 1800's, "stereoscopic imaging was the first virtual reality that was successful," Last explained, showing the crowd photographs of classic versions of the machines.
"[Stereoscopic imaging] was intended to take you somewhere out of your life, into somewhere new," Last said. "I wanted everyone else to see the wonder and excitement [that he experienced in Japan]…and the color and lighting were fabulous."
The artist's statement further explains what Lane hopes to achieve through this presentation. "Every image can suggest a way of seeing and relating to the world. In many ways, the experience and power of art is its ability to cling to the imagination and memory of a viewer despite a lack of specific reference. Images can also be screens where our emotions and premonitions take form. Our human desire to create cosmologies fumbles around in this same darkness. I see my practice of computer – mediated art making as an important conjunction of our perceptual abilities and digital representation technologies. I also see these images as constituting their own reality. These works have a living presence and interplay among the purely visual elements of color, form, motion, and illusionary space creating a powerful and engaging experience of vision."
Last began working on the Herculean task of converting his digital photographs of vibrant historical Japan into this more immersive medium. Upon entering the exhibit, there's a table in the center with a small sign and box of Owl stereoscopic viewers. Developed by the guitarist for Queen, Owl stereoscopic viewers are reminiscent in many ways of the children's toy ViewMaster. However, instead of 3D images of Mickey Mouse or dinosaurs, there's a slot to insert one of Last's photographs. Scenes of Hirosaki City in late fall are brought to life with the vibrant reds and gorgeous hand-carved details documented in 'virtual reality' by Last's photography.
The exhibit will be on display in the J. Houston Gordon Museum in the Paul Meek Library until at least the end of the semester. The museum is open from Monday to Friday between the hours of 8 a.m. and 4:30 p.m.
Student Shaylor Bishop tries out Owl stereoscopic viewer (Pacer Photo/Laura Crosset).