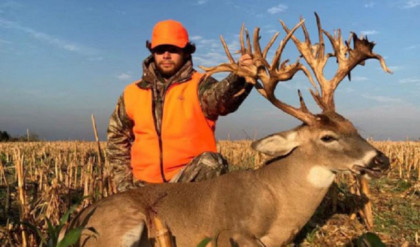 Steven Tucker, 26, killed what hunting officials are saying could be a record breaking white-tailed deer.
Tucker bagged the monstrous 47-point buck with a muzzleloader Monday morning, Nov. 7, in Gallatin, Tennessee.
Tucker says it was the third time in three days he had seen the deer. His first sighting of the deer happened the Saturday before when, after steadying himself, the gun misfired. The second time he saw the animal was later that day when he passed on the buck, thinking he might not be able to make a clean or ethical shot.
"I was just hoping I would see him again after I passed up the shot the second time I saw him," Tucker told The Tennessean. "My thinking was, the second time I saw him was as far away as he was and as big as he was, I wanted to make sure that I killed him. I didn't want to cripple him. I said to myself, 'If I cripple him, nobody will get to kill him.' The last thing I wanted to do was be the guy who crippled a deer like that." 
He got his chance later, and at 6 a.m. on Monday morning, he downed the three-and-a-half-year old buck.
According to the Tennessee Wildlife Resources Agency, the deer was scored using the official Boone and Crockett Club requirements for non-typical racks. Dale Grandstaff, a captain with TWRA measured the deer after notified by Tucker. The nontypical rack had 313 2/8-inches gross score, and after deductions defined by Boone and Crockett, a net score of  308 3/8 inches.
The current world record holder is an Iowan white-tailed deer with a gross score of 307 5/8 inches.
It is possible the rack on Tucker's deer could shrink between now and when it is measured again after the mandatory 60-day drying period. If that happens, it will cost him the world record. However, with the current state record deer being 244 3/8 inches, also from Sumner County, chances are good he will break at least one record.
Feature photo: Steven Tucker of Gallatin poses with his record-breaking buck. (Photo Credit/TWRA)