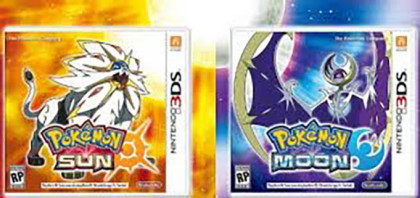 *Spoiler alert*
Pokémon recently released an updated adaptation to Sun and Moon on Nov. 17, 2017.
With this release, fans of the franchise were hoping that it would be a sequel to the original story that debuted a year earlier. However, that was not the case.
Ultra Sun and Ultra Moon's story is essentially the same as Sun and Moon except for several story changes. These changes include Necrozma draining light from the Alola region, new mini games such as Mantine Surfing, a new trial with fairy-type Pokémon, access to legendaries and more.
The main game and post game of Pokémon Ultra Sun took around 35 hours for me to complete, which is longer compared to the 21 hours it took for me to complete all of Pokémon Sun.
When I first started, I was expecting long cut scenes, but was surprised by how quick the time between the start and getting a starter were. Along with other slight story changes, the story became fuller as I played through. Whereas Sun was a good, basic play through, Ultra Sun was a story that explained more about Sun.
What impressed me the most about Ultra Sun, and what disappointed me about Sun, was legendary Pokémon access. With Sun, you could only catch the Tapus and Ultra Beasts. However, thanks to the ultra wormhole that is introduced in Ultra Sun, players can now catch every legendary if they have both games, since some legendaries are exclusive to one game. With this wormhole, you ride on Solgaleo or Lunala to reach certain worlds, either by moving your DS around or later changing it to work on the circle pad.
This game also brings us back to battle past villains such as Maxie from Ruby, Lysandre from X and Y and even Giovanni from Red, Blue, Green and Yellow. Giovanni, along with the other villains, form Rainbow Rocket and take over the Aether Foundation.
Overall, Ultra Sun and Moon retell the story of Alola but with deeper understanding and substance. If you are able to buy both games, do it, as it will help along with completing the Pokédex. Otherwise, these game's, no matter which one you buy, will be guaranteed to bring new adventures, as well as nostalgia, back into your life.
(Photo Credit/Flikr)