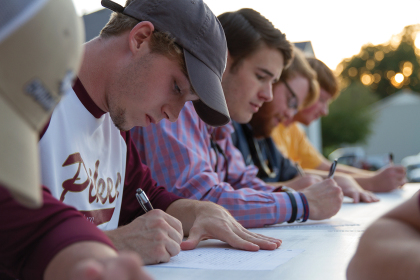 UTM's Pi Kappa Alpha fraternity hosted Letters in Motion Friday, Nov. 14. at their house on Hannings Lane.
The event, designed to raise awareness about the state of orphans in Nepal, had a significant turnout despite the cold weather.
Sophomore Biology major Marena Locke said the awareness event was highly influential.
"I'd never even heard of something like this, honestly," said Locke. "I think it's amazing John put the effort into doing this."
Letters in Motion is a movement created by UTM junior John Sellers intended to help provide aid to underprivileged children in Nepal. Sellers was inspired by his family to create the organization, which sends hopeful, heartfelt letters to orphans in Nepal.
Sellers' family has been an influence in Nepal for the past 23 years, using churches in the United States to help fund their cause. The family owns and operates an orphanage in Nepal. While some "orphanages" in Nepal use aid money from the United States to facilitate their human trafficking operations, and others mutilate orphans to make them seem more pathetic in an attempt to receive more funding, the orphanage owned by the Sellers family provides a safe haven for orphans.
Sellers' mission is to bring awareness to college and university students who are deciding what they plan to do for the rest of their lives. He hopes that in doing so, he may influence them to help Nepal's orphans.
The Letters in Motion movement "keeps [college students] centered at the university, but also opens their eyes to problems in the world," said Hagen Little, a freshman Plant and Soil Science major.
"Helping people who aren't as privileged – it's so humbling to do this," said senior Jackson Donnell, Human Health and Performance major. "The awareness raised for Nepal's orphans might not have been as great at UTM [or] among other universities if John Sellers hadn't acted as a catalyst to propel the orphans' needs to the forefront of our minds."
For more information regarding the Letters in Motion movement, visit golettersinmotion.com or visit Letters in Motion on Facebook.