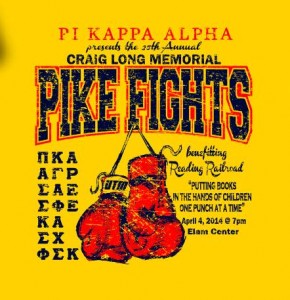 Much like any other year at this time, the brothers of the Pi Kappa Alpha fraternity at UTM have begun preparations for their annual Pike's Peak Week, their designated week of philanthropic events. As one can imagine, the amount of work required to plan these events for a typical year is great, but this year is far from typical as the Pikes plan for the 25th anniversary of their highest grossing event, the Craig Long Memorial Pike Fights.
"We take a lot of pride in this event. We know that it is a mainstay in both the campus and Martin communities," said this year's coordinator Blake Parham, a UTM sophomore. "Planning this out has been really a great learning experience for me. Knowing the caliber of event we always put out is a lot of pressure, but it drives me to wanting to see this 25th anniversary be the best yet."
The fights are an annual boxing exhibition comprised of matches pitting men from the seven member fraternities of the UTM Interfraternity Council against one another.  The matches consist of three one-minute rounds of boxing that are decided by a panel of judges based on number of connecting blows or (perhaps more excitingly) via knockout. While the excitement and intensity of the matches are certainly some of their most fun and drawing qualities, the benefactor of their profits, the Weakley County Reading Railroad, is what continues to make them a highly-respected part of Martin social life.
"It means a lot for our organization to be tied so closely to the Weakley County Reading Railroad program," said President Jacob Harris of Pike. "To date we have raised over $100,000, averaging around $5,000 per year, but this year being our 25th anniversary, we've raised our goal to $10,000. We want to see the Reading Railroad succeed because it serves a great role in our community and has really helped the children of Weakley County. The importance of our work is shown by the prominent figures of Weakley County who attend the event each year."
In addition to all the philanthropic benefits of the event, it also promotes a healthy sense of fraternal unity among chapters on campus, uniting them toward a common goal in helping their local community on a truly important matter.
"Most of our charity efforts actually involve an organization located in Dyersburg because we have historic ties to it," said President Jacob Sells of Sigma Phi Epsilon, winning chapter of last year's Pike Fights. "The chance to come together to mutually align ourselves for a local cause such as this is something that I think means a lot to all of the chapters here at UTM to have the chance to be a part of."
The Weakley County Reading Railroad is a nonprofit organization that serves in partnership to both the Dolly Parton Imagination Library and the Governor's Books from Birth program. Currently there are 1,217 children enrolled in the program that is supported strictly through the generosity of individuals, businesses and civic groups such as the brothers of Pi Kappa Alpha who prove their willingness to fight for its success every year.
The 25th annual Craig Long Memorial Pike Fights will take place in the Tom and Kathleen Elam Center on Friday, April 4 with the first bout beginning at 7 p.m.