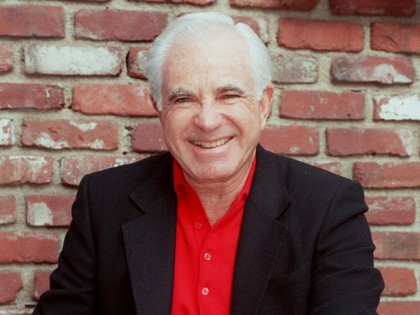 Joseph Wapner, America's first reality television judge, died Sunday morning at the age of 97. 
According to TMZ, Wapner was hospitalized last week after suffering breathing issues.  His condition worsened and on Friday he was transferred to his Los Angeles home under hospice care.  He has suffered a series of strokes in recent years.
Wapner presided on the syndicated TV-hit, "The People's Court," from 1981 to 1993.  The show was the first court show to utilize binding arbitration and turn real-life, small-claims cases into engrossing entertainment.  It allowed little tolerance for unpreparedness and interruptions. 
Various disputes included nonpayment of services, lending money unwisely to dishonest friends and family members, and altercations involving neighbors' pets.  The parties are selected from dockets of Los Angeles area small claims courts and agreed to have their matters settled outside a normal court of law to sign a legally binding arbitration contract. 
Wapner was best known for his opinionated but friendly demeanor.   A 1989 Washington Post survey revealed that 54 percent of Americans could identify with Wapner compared with nine percent who could name former chief justice of the Supreme Court, William H. Reinquist. 
Evidence such as written contracts, receipts and other documentation were often a deciding factor. He also displayed a sense of fairness in "Solomon-like conundrums."  In one instance a litigant said to him, "I'm not through, your honor." Wapner replied, "Well, now you are."
After the show was first cancelled in 1993 due to low ratings, it was revived in 1997 with former attorney and New York City mayor, Ed Koch, presiding.  He was later succeeded by Judge Jerry Sheindlin, husband of Judge Judy Sheindlin. Following Sheindlin was Judge Marilyn Milian.  Milian has since become the show's longest-reigning arbiter. 
"The People's Court" paved the way for other TV-court shows, including "Divorce Court," "Judge Judy" and "Judge Joe Brown."  The courtroom set is the only fictional component of the show. 
Wapner had spent nearly 20 years on the bench of the Los Angeles Superior Court prior to becoming a TV-judge. He later hosted an Animal Planet show called "Judge Wapner's Animal Court," from 1998-2000 that dealt with small-claims disputes involving animals. 
He wrote in his memoir, "A View From the Bench," that his opposition to judicial salary cuts with the comparison of California Gov. Jerry Brown (D) to Mao Zedong that likely costed him a promotion to the state appellate court. 
Wapner was born in Los Angeles in 1919.  His father was a lawyer and his original career goal was to become an actor until a theater director at Hollywood High School told him that he had no talent.  His classmate was actress Lana Turner, whom he referred to as "the most beautiful girl I'd ever seen." 
He graduated from University of Southern California in 1941 and served in the Pacific during WWII.  He was wounded by grenade shrapnel and risked his life to rescue a fellow soldier from machine-gun fire.  He was later awarded the Bronze Star and the Purple Heart. He later received a law degree from USC in 1948 and spend 10 years in private practice prior to serving on the Los Angeles Municipal Court in 1961 then later the Superior Court.  His peers elected him as presiding judge several times and he was given oversight of more than 200 judges.  He was also president of the California Judges Association. 
Wapner retired from Los Angeles Superior Court in 1979 and conducted private arbitrations that specialized in divorce cases for $250 an hour before being offered to preside over "The People's Court." 
Wapner is survived by his wife of 70 years, Mickey; three children, four grandchildren, and one great-granddaughter.
(Photo Credit/PEOPLE.com)