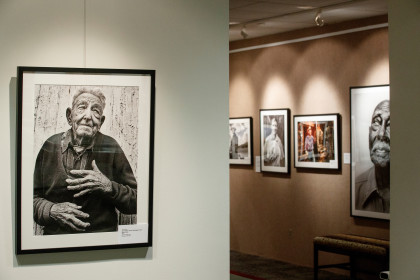 American Farmers, The Heart of Our Country is an exhibit in the Paul Meek library of roughly 30 large photographs out of Paul Mobley's book of the same name as the exhibit. It was photographed to showcase the American farmer, their pride in their work and the hard life they live as farmers.
The exhibit includes both black and white and color photographs focusing on the American farmer. It includes pictures from many states from Alaska to Florida with every kind of farmer being showcased. From cattle farmers, ranchers, cabbage farmers to bee farmers, no farmer is left out.
Paul Mobley focuses on who the farmer is. The people in the image are always the center point. All the farmers are posing in some way, most showcasing their chosen livelihood. The colors in the photographs are highlighted to make the farmers themselves stand out.
The exhibit includes men, women and children showcasing all aspects of farming. Mobley's expertise in catching the rough, grizzled look and the hard life the farmers have lived is apparent in the images.
"It was definitely unique and interesting," said Brian Affolter, junior Communications major from Brentwood. "You usually don't see any sort of spotlight on farm life, so it's refreshing to see these pictures do a good job of giving a deeper insight into the people behind the profession."
The detail in the exhibit is mesmerizing and the quality of the images by Mobley is worth the time spent in the exhibit.
Mobley is a famed photographer whose books focus on the American Spirit. His most recent book is titled American Firefighter. He has also taken portraits for celebrities from the likes of Eric Church to Jeff Foxworthy.
American Farmers, The Heart of Our Country is on display in the Paul Meek Library on weekdays from 8 a.m. to 4:30 p.m.
(Photo Credit/University Relations)