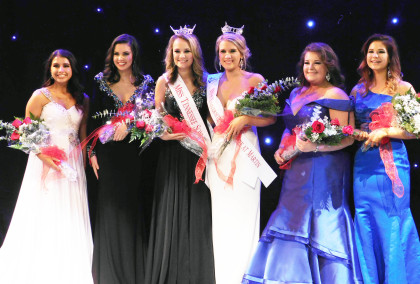 Eleven girls competed for the titles of Miss UTM and Miss Tennessee Soybean Festival at 7 p.m. on Nov. 11 at the Harriet Fulton Theatre but only two walked away with crowns.
At the annual scholarship pageant, Morgan Martin, a 20-year-old junior health and human performance major, won the title of Miss UTM 2018. Her platform is the program Wheeling Sportsman and she called her mother with the news immediately following the announcement.
"Right now I'm just going to try to enjoy the moment but I'm really looking forward to being on campus and getting to represent UTM and the student body and much as I can," Martin said.
The second runner-up for Miss UTM was Rachael Friedrich, an agriculture major, and the first runner-up was biology major Amanda Mayo. Friedrich also won the People's Choice Award.
Katie Hodges, a 17-year-old senior at Chester County High School, won the title of Miss Tennessee Soybean Festival 2018. Her platform is tied to group Type One to Type None: Ending Juvenile Diabetes.
"I'm going to Miss Tennessee, that was the first thing that popped in my head and I'm freaking out," she said. "I don't believe it."
Hodges has been competing in pageants since she was seven years old, but said she had a rough morning, although she had fun competing.
"I was not expecting it at all but I'm so excited and so blessed," she said.
Second runner-up for Miss Tennessee Soybean Festival was Emily Holder and first runner-up was Kara Smith.
Smith, an 18-year-old student at the University of Memphis was also voted Miss Congeniality.
"It's really an honor, honestly," she said. "It's one thing to win a pageant but for your peers to vote you for an award that's really special."
Smith recalled being asked to help another contestant curl her hair, but volunteered to finish it so it would look the same. She also revealed some tricks of the trade with other contestants. This is her second year competing in pageants and she hopes to one day become Miss Tennessee to compete in the Miss America contest.
Each girl participated in a private interview that accounted for 25 percent of their score; a lifestyle and fitness swimsuit competition for 15 percent; a talent competition for 35 percent; an evening gown competition for 20 percent; and answered an onstage question for five percent of the final score.
A wide array of talents were presented, from singing to dancing and playing musical instruments.
The judges were Hollie Holt, owner of counseling and career planning service, Class 101 Nashville; Tammi Bell, a Tennova Healthcare employee; Rita Shane, account clerk at West Tennessee School for the Deaf in Jackson, Tennessee; David Moore, UTM criminal justice lecturer; Jordan Parker, creator of literacy program, Project Redhead; and Elizabeth Scott, owner of Elizabeth Looney Photography and blogger.
The winners from last year's pageant were also in attendance to say their farewells and pass along their crowns. They additionally assisted in different capacities throughout the evening and performed.
"This year has been a whirlwind, to say the least. I have cried, laughed, celebrated and most importantly, I have grown. Competing in this pageant caused me to step out of my comfort zone, and reach for dreams that I never thought were possible," said 2017 Miss UTM, Brenna Wilkins. "…I am forever grateful for a community that has built me up and stood behind me throughout my journey."
"It was my dream to make it to the Miss Tennessee stage since I was a little girl and watching that dream unfold before my eyes takes my breath away," said 2017 Miss Tennessee Soybean Festival, Laura Ann Higgs. "I am forever thankful to this organization and everything that I have gained from being in this organization."
This was the pageant's 55th year. Winners go on to compete in the Miss Tennessee pageant next year and Miss Soybean is active in the annual Soybean Festival events.
(Pictured from L-R are contestants that placed in the annual Miss UTM/Miss Tennessee Soybean Festival scholarship pageant: Emily Holder, Kara Smith, Katie Hodges, Morgan Martin, Amanda Mayo and Rachael Friedrich. | Pacer Photo/Kristina Shaw)