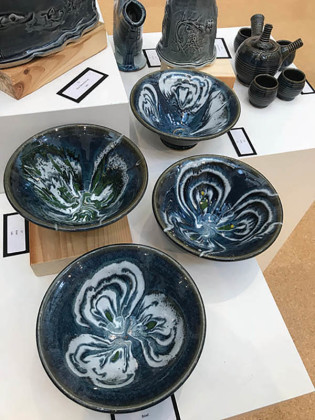 The Fine Arts building is hosting a pottery gallery called, "There Was an Explosion in the Rainbow Factory" until Nov. 11. This exhibit is open daily from 1 p.m. to 5 p.m.
The galley's creations are by guest artist, Dick Lehman and almost all of the pottery at the exhibit is for sale as well.
Upon entering the exhibit, visitors will find themselves in a beautiful and spacious room with the pottery on full display. As the title of the exhibit states, the works of pottery on display and for sale are painted in an array of beautiful colors. Many different kinds of pottery are available for purchase at the exhibit, most of which resemble common household goods.
The most plentiful items in stock at the art gallery are cups and mugs. Against one of the walls, visitors will see a large wooden display with a variety of mugs varying in size, color and price. On average, most cups and mugs are around $40.
There are also pots and other sorts of vases on display. Smaller vases and pots go for around $50-$60. A wine, sake, and liquor set is available for purchase at around $70. Smaller jars go for around $50.
The price scale of goods for sale ranges from $40 to $695. The most expensive item for sale was a $695 wood fired jar. What makes this jar special, aside from its larger size, is that its a wood-fired jar. The firing process took seven days, in which all-natural ash was used.
The exhibit still has many items for sale, including a large variety of cups, jars, bowls and vases. The $695 wood-fired vase is still available for purchase as well. Anybody looking to buy or just to browse has until Saturday, Nov. 11 to do so.
(Pacer Photo/Bre Rudolph)